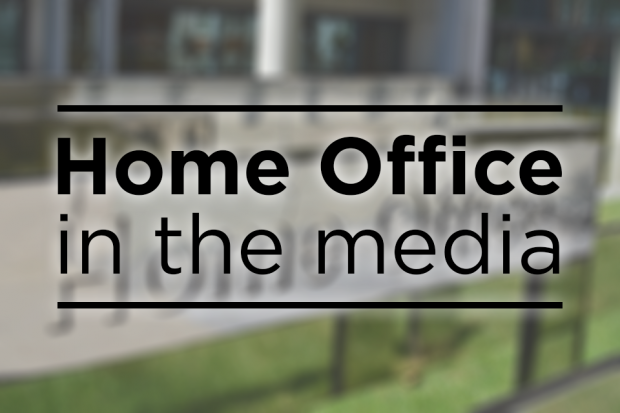 Today's Home Office related stories include coverage of Wiltshire Police's investigation into allegations of child sexual abuse and the new Stalking Protection Orders the Government is introducing.
Operation Conifer
There is widespread coverage of the findings published yesterday by Wiltshire Police from their investigation into historic child sexual abuse allegations made against the late former Prime Minister Sir Edward Heath. All of the newspapers report that Wiltshire Police said they would have interviewed Sir Edward under caution in relation to 7 allegations. The Times, Telegraph and Mail are critical of the investigation noting that many of Sir Edward's friends have said his reputation has been "tarnished" and he is unable to defend himself. The Guardian and Independent editorials argue that it was right for Wiltshire Police to pursue their investigation and to take seriously allegations of child sexual abuse.
Stalking
The Mirror reports that stalkers are set to be put on "a register" of offenders who are a danger to the public, putting them on the same footing as rapists and paedophiles. The paper quotes Crime Minister Sarah Newton as saying the Government is to introduce a new stalking protection order.
Stalking and domestic abuse perpetrators can already be managed by police and probation under multi-agency public protection arrangements (MAPPA). The details of those offenders managed under MAPPA are already captured on the Dangerous Persons' Database. The Domestic Violence Disclosure Scheme has also been rolled out nationally to inform and alert new partners about a perpetrator's previous offending.
Following public consultation, we will be introducing a new civil stalking protection order as soon as possible. The order will be able to impose restrictions and positive requirements and will be available on application from the police to the courts, removing the onus on victims. Breach of the order will be a criminal offence with a maximum sentence of five years' imprisonment. The Minister's quote is in full below.
Sarah Newton, Minister for Crime, Safeguarding and Vulnerability said:
Being stalked can have terrifying consequences, and this Government is determined to do everything it can to protect victims and stop perpetrators at the earliest opportunity.

That is why we have strengthened the law introducing new stalking offences and are taking steps to introduce a new stalking protection order to protect victims at the earliest possible stage.

We are committed to a comprehensive consultation with charities, partners and experts on a new Domestic Abuse Bill and will consider the full range of options to target perpetrators and protect victims.