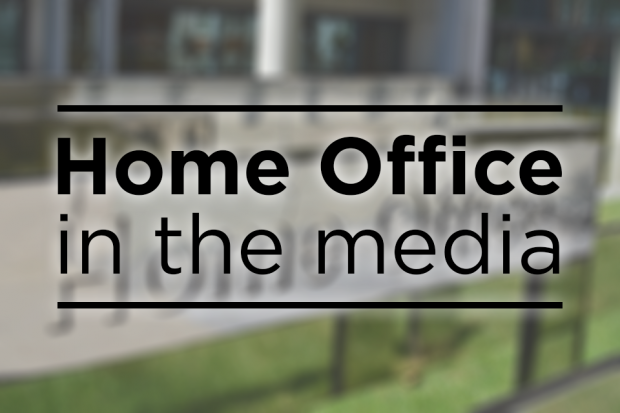 Today's Home Office-related stories include coverage of the hearings held by the Independent Inquiry into Child Sexual Abuse (IICSA), a Crown Prosecution Service report into Violence against Women and Girls, and news that a Border Force officer has been arrested.
Independent Inquiry into Child Sexual Abuse hearings
The Telegraph, Mail, Mirror and Guardian, among others, report that MI5 knew about the "cover-up" over claims of abuse against Cyril Smith. Many of the papers report that Smith was not prosecuted despite "sordid" allegations of sexual and physical abuse. This was part of evidence heard at the Independent Inquiry into Child Sexual Abuse yesterday.
For more information about the work of the independent Inquiry, you can contact the IICSA press office on 020 3789 2114.
CPS report shows spike in alleged sex crimes
The Guardian and the Today programme report that alleged sex crimes and domestic abuse offences now account for one in five cases pursued by the Crown Prosecution Service. Both outlets also report that cases of "revenge porn" have doubled in a year. Our statement on this issue is below.
A Home Office spokesperson said:
This Government is committed to tackling violence against women and girls at home and abroad. The number of prosecutions and convictions for domestic abuse have increased significantly since 2010, while those for rape and sexual assault are at their highest ever levels.

We recognise we still need to do more, which is why we will be introducing a landmark Domestic Violence and Abuse Bill to protect and support victims and bring perpetrators to justice.

During the previous Parliament, the Home Secretary established a national oversight group to ensure that the police change the way they respond to domestic abuse. We are continuing to oversee delivery against HMIC reports through this oversight group.
Border Force Officer arrested
The Times (p10), Sun (p9), Mail (p12) and Guardian (p17) report that a border officer has been arrested on suspicion of smuggling guns and drugs through the channel tunnel. The papers report that the 36-year-old was one of 12 suspects arrested, and will raise concerns about the extent to which corrupt guards are being targeted by criminals. Our statement on this issue is below.
A Home Office spokesperson said:
We are aware that a member of Home Office staff has been arrested by police in France. It would be inappropriate to comment further while police investigations are ongoing.