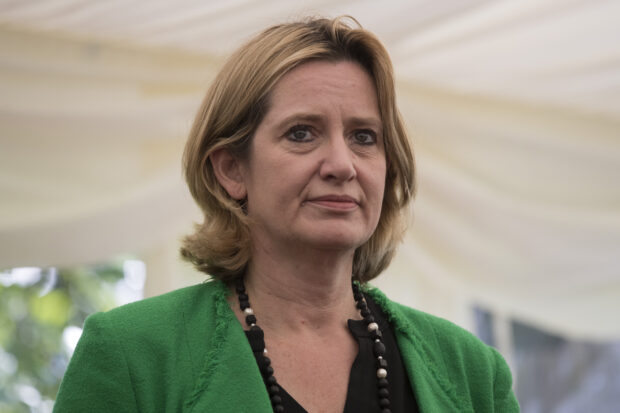 The Home Secretary has urged businesses to do more to prevent modern slavery in supply chains, in a comment piece published today in the Evening Standard.
Yesterday, the Home Secretary chaired the first "Business Against Slavery" forum, which brought together eight chief executives of large UK companies from a range of sectors. The forum aims to spearhead industry action to drive out slavery from supply chains.
The discussion at the first meeting centred around the role these business leaders can play in tackling modern slavery, by encouraging more collaboration and innovation, and raising standards in their sector.
In her comment piece, the Home Secretary highlights the importance of collaboration to effect change, and the creative thinking required from industry to prevent labour abuse and support victims.
You can read the comment piece in full below:
Businesses must do more to help end the scourge of forced work.

Modern slavery is a barbaric crime. Each and every case is both a tragedy and an affront to our values of decency and kindness.

With the creation of the Modern Slavery Act in 2015, this Government threw a light on this truly horrific form of abuse and exploitation. This landmark piece of legislation represented a step change in the way we pursue offenders and identify and support victims.

But each day the Evening Standard's excellent investigation into modern slavery highlights further examples of exploitation, which serve as a reminder of how much more there is to do. These stories can often feel far removed from our daily lives. But the truth is that we are all connected to modern slavery; and we all bear the solemn responsibility of seeing it wiped out.

It is troubling that modern slavery can be hidden in the supply chains of goods and services we use every day, and that the money we spend could be driving demand for slavery.

The International Labour Organisation now estimates that there are more than 40 million people in slavery worldwide today. What that means is that modern slavery should be a pressing concern for all businesses — and for all consumers.

We know that if businesses are not taking serious and sustained action to check their supply chains, then they could be profiting from slave labour — whether it's on their premises or in a factory thousands of miles away.

The Modern Slavery Act's transparency in supply chains provision requires businesses to publish an annual statement outlining what steps they have taken to prevent modern slavery. I am encouraged by the thousands of statements published, which set out a range of innovative activity.

Nonetheless, many businesses need to be more proactive and even those who are already taking action should think about what more they could do.

I want to see businesses identifying where the highest risks of modern slavery are and taking targeted steps to address those risks.

That is why I was proud to chair the first "Business Against Slavery" forum yesterday, which brought together chief executives from a range of sectors to discuss how we could accelerate progress to tackle this.

We know that collaboration is crucial. Even the largest businesses might not have enough leverage to change a supply chain on their own. But when businesses work together they can effect real, meaningful, sustained change.

The Ethical Trading Initiative has brought textile brands and retailers together with spinning mills, NGOs and local government in Tamil Nadu in India to improve working conditions and empower vulnerable young women caught in debt bondage.

In addition, many businesses have expertise which could be brought to the fight directly. For example, the ILO estimates that modern slavery generates $150 billion (£114 billion) in illicit profits each year. This money is not hidden under the mattress. So banks have an important role to play in identifying the financial footprint left by modern slavery and stopping perpetrators from laundering their proceeds.

Business can also support the victims of modern slavery. The Co-op Group and the charity City Hearts have launched the Bright Future programme, which offers survivors paid work placements, with the possibility of full-time employment at the end. Opportunities like this can help victims rebuild their lives, reintegrate them into society and reduce the risk of their being re-trafficked.

So the challenge for all businesses is to think creatively about what role they could play. And the challenge for all of us is to motivate those businesses through our role as consumers.

This Government will do everything in its power to pursue the despicable criminals behind modern slavery and protect their victims. In April we invested £2 million in the Gangmasters and Labour Abuse Authority and granted it new powers. Since then, 28 operations have identified 621 workers suffering abuse and led to 40 arrests.

The National Crime Agency has also intensified enforcement activity as part of Operation Aidant. Recent work has targeted key industries in the UK where vulnerable people are enslaved, including car washes and agriculture.

Meanwhile the Modern Slavery Taskforce, created and led by the Prime Minister, brings together criminal justice experts, security services and law enforcement to drive forward the domestic and global response. This sends a clear message: those who profit from modern slavery will have nowhere to hide. We will investigate and expose them, and we will safeguard victims and bring offenders to justice.

But we can only truly succeed by working together, with Government, businesses, NGOs and consumers all playing their part to consign slavery to history, where it belongs.