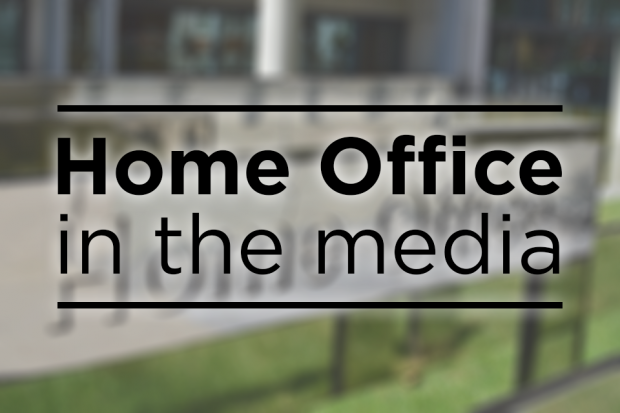 The main Home Office-related stories in the media today include coverage of a Her Majesty's Inspectorate of Constabulary and Fire and Rescue Services(HMICFRS) report on modern slavery which says that some police chiefs "ignore" the issue, and claims that Romanian criminals are allegedly using a legal loophole to block their extradition from the UK back to their home country.
HMICFRS report on modern slavery
The Times, Guardian and Independent cover the HMICFRS report published today which reveals that some police chiefs "ignore" modern slavery. They lead on the line that police forces are failing to tackle modern slavery and human trafficking because of a lack of sympathy with the victims. The report, which the Guardian calls "highly critical", adds that the Inspectorate found that many victims were treated primarily as immigration offenders which meant that patterns of slavery were often missed. There is coverage of the findings across the broadcasters, with the Today programme reporting that inspectors found "good practice was the exception – not the norm" and also found that cases were closed early without justification.
 Our statement on this report is below.
 A Home Office spokesperson said:
Modern slavery is a barbaric crime which destroys lives and has absolutely no place in society. The HMICFRS report recognises that since the inspection concluded in April, significant progress has been made in improving the law enforcement response.

"We are investing £8.5million to help the police tackle this horrendous crime, including the creation of a new intelligence hub within the National Crime Agency to help forces protect victims and bring offenders to justice."

 "Through the Modern Slavery Act we have given law enforcement the powers they need to tackle this crime, toughened up sentences and increased support and protection for victims. But we know there is more to do and senior policing leaders must now ensure all forces are using these new powers and resources to maximum effect.
Romanian criminals use legal loophole
The Times, Mail and Express report that Romanian courts are allowing those facing trial there to travel to the UK, at which point they use human rights laws to block their extradition. The papers say that offenders are given bail in Romania without having their passport cancelled, allowing them to travel to Britain under EU freedom of movement laws. The papers note two High Court rulings which blocked the extradition of two Romanian criminals because of claims under the European Convention of Human Rights over the size of their jail cells at home. The paper notes Romanian authorities made 1,508 extradition requests to the UK in 2015-16.
 This is a Crown Prosecution Service lead, and their Press Office will handle queries on this subject.