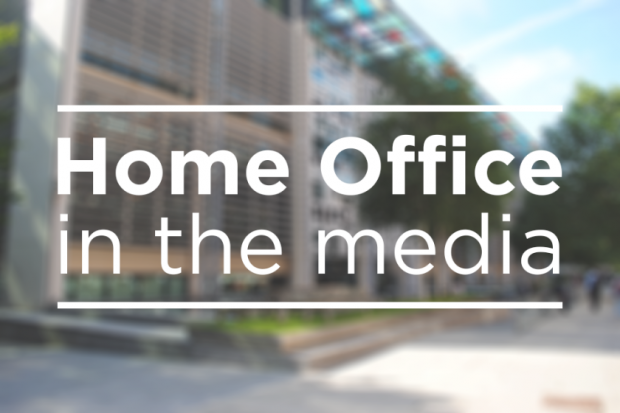 Today's media stories related to the Home Office include reports on the police powers statistics for England & Wales  published yesterday and a story about protests outside abortion clinics.
Police powers statistics
The Telegraph, Mail, Times, Independent, Express, Sun, Mirror and Metro all report that police have been accused of "letting criminals of the hook" as the number of arrests made has fallen by half in the last decade. The papers refer to the police powers statistics published by the Home Office yesterday. The Mail quotes the National Police Chiefs' Council as saying that the criteria for police to arrest a suspect were strengthened in 2012 and so now many suspect interviews take place without having to place someone under arrest. Our statement on the statistics is below.
A Home Office spokesperson said:
Crime traditionally measured by the Independent Crime Survey for England and Wales - widely regarded as the best long-term measure of the crime people experience - is down by almost 40 per cent since 2010 and 70 per cent since its peak in 1995.

It is well known that much of the rise in police-recorded crime is due to better recording by forces. The Office for National Statistics stresses it cannot be considered a reliable measure of crime trends.

Also, arrest is just one of the powers police possess to tackle crime and the number of arrests fails to capture trends such as the increase in voluntary attendance at police stations and the use of community resolutions.
Abortion clinic protests
A letter signed by 113 MPs and sent to the Home Secretary calls for "buffer zones" outside abortion clinics to stop pregnant women being subjected to abuse and even being called "murderers", the Telegraph, Guardian, Buzzfeed and Mirror report. The Telegraph states that the letter calls on the Home Secretary to bring forward plans to ban protests outside clinics. Our statement on the issue is below.
A Home Office spokesperson said:
This Government is absolutely clear that the right to peaceful protest should not extend to harassment or intimidating behaviour. Protesters are subject to the law and all suspected criminal offences should be robustly investigated and dealt with by the police. Where vulnerable women are harassed or intimidated, simply for exercising a legal right, we are clear that the police and the local authority should deal with it.

We will carefully consider the important issues raised in this letter, and work with the police and local authorities to ensure they are able to make full use of their existing powers to prevent this kind of behaviour. We will also explore whether any further action is needed to ensure clinic staff and patients can go about their lawful business free from harassment, offence or alarm.