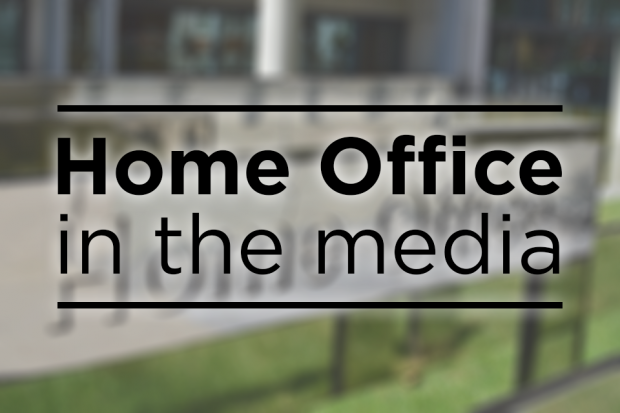 Today's Home Office-related coverage includes stories around financial crime and domestic abuse.
Financial Crime
The Guardian, Times and Financial Times are among publications reporting on a new series of measures tackling financial crime announced by the Home Secretary.
These measures include the publication of a Government Anti-Corruption Strategy and the launch of a National Economic Crime Centre to oversee police response to financial crimes.
The Home Secretary has issued a warning that billions of pounds are being laundered through the City of London, despite the UK being one of the least corrupt places in the world to do business.
A statement from the Home Secretary can be found below.
Home Secretary, Amber Rudd said:
There is a myth that there are no real victims of economic crime, but I have seen first-hand how it can ruin people's lives. It is not a victimless crime and so it's vital we tackle these offences that can leave innocent people destitute, cost the country billions every year, and allow gangs to profit from serious and violent crimes

The measures we have announced today will significantly improve our ability to tackle the most serious cases of economic crime by ensuring our agencies have the tools and investment they need to investigate, prosecute and confiscate criminal assets.

Rest assured we will pursue all those seeking to move, use and hide the proceeds of crime.
Police failing to attend domestic violence incidents
The Independent carries an article claiming Freedom of Information (FOI) figures found the number of domestic violence incidents going unattended by police rose from 5% to 11% between 2012 and 2016. The FOI figures come from 19 out of 38 forces across England.
The Home Office's response to this story can be found below.
Home Office spokesperson said:
Domestic violence is a life shattering and abhorrent crime, and tackling it is a key priority for this Government.

Independent assessments from Her Majesty's Inspectorate of Constabulary and Fire & Rescue Services (HMICFRS) have noted improvements in the overall police response to victims since 2014, but we recognise there is still more to do. This is why the Government will publish a landmark draft Domestic Violence and Abuse Bill to protect and support victims, recognise the life-long impact these crimes have on children, and ensure agencies respond effectively to domestic abuse.

Last year the Government committed funding of £80million to stop violence against women and girls and launched a new strategy to stop abuse with a focus early on intervention and prevention. A further £20 million for domestic abuse services was announced in the Spring Budget, and we are committed to working with the police and the Crown Prosecution Service to continue to improve their response to these crimes.