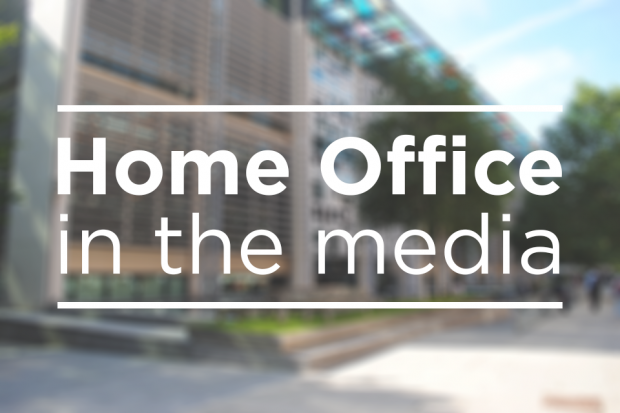 Today's main Home Office story in the media is the apology made by the Home Secretary Amber Rudd to the "Windrush" generation of migrants and police officers' mental health.
 Windrush Generation Apology
On Monday, the Home Secretary gave a statement in the House of Commons where she apologised to members of the Windrush Generation who arrived from the Commonwealth decades ago as children and some of whom had been incorrectly identified as illegal immigrants.
The Home Secretary answered an Urgent Question put forward by David Lammy MP on the issue. She said the treatment of the Windrush Generation had been "appalling" the department had been too concerned about policy and had "lost sight of the individuals".
There's widespread coverage across broadcasters and all the papers over the issues facing former- Commonwealth citizens who have had difficulties proving their legal right to remain in the UK.
The Telegraph, Guardian, and Mail all splash on the story. It was also included on the Times front page but not the splash. The Guardian describes the Home Secretary's apology as "unprecedented" and reports on the announcement of a Home Office team dedicated to dealing with the problem.
The Telegraph reported that the Prime Minister, who was in charge of the Home Office when key protections for the Windrush generation were removed, has been forced into an 'U-turn' after she agreed to a meeting to discuss the issue with Commonwealth heads of government.
The Times reports this is the "predictable outcome" of the policies pursued by the Prime Minister while she Home Secretary.
A statement on the announcement of a taskforce to process cases can be found below:
Home Secretary Amber Rudd said:
This is about individuals, people who have built their lives here in the UK and contributed so much to our society. I don't want them to feel unwelcome or to be in any doubt about their right to remain here. There is absolutely no question about their right to remain and I am very sorry for any confusion or anxiety felt.

The vast majority will already have documentation that proves their right to be here. For those that don't I am announcing a new dedicated team that will be set up to help these people with getting the documentation they need and do it quickly.

We've also set up a webpage and have been speaking to charities, community groups and High Commissioners about providing advice and reassurance to those affected and we will set up a dedicated contact point to ensure this is resolved as soon as possible.
 Police Officer mental health  
The Telegraph, Mail, Express, Mirror, Sun, Star, and Metro report on a staffing "crisis" amongst the police, with officers losing 240,000 rest days last year across England and Wales. Police Federation chairman Calum Macleod is quoted widely as saying morale was at an all-time low and exhaustion was having a worrying impact on officer's mental and physical health. A Home Office statement can be found below:
A Home Office Spokesperson said:
The Government takes the issue of police welfare very seriously and it is imperative that policing provides excellent support to its officers and staff.

This is why the Minister for Policing and Fire Service chaired a roundtable in January which focussed on how we can assist police leaders.

We have also invested in programmes which offer help directly to officers and staff. In July 2017, the Home Secretary awarded £7.5 million from the Police Transformation Fund over three years to pilot and, if it is successful, fund a dedicated national service to help provide enhanced welfare support.
Further Lines
The Government has also awarded £7 million since 2014, using funds from the LIBOR fines imposed on banks, to the charity Mind, which has funded targeted support and programmes for emergency services via their Blue Light Wellbeing Programme.
In 2017, the Government also granted £1.5 million from the LIBOR fines fund to expand the Police Treatment Centre in Harrogate, providing increased psychological wellbeing support to the police and other emergency services personnel.
The College of Policing has also carried out important work in this area. National Police Lead for Wellbeing Chief Constable Andy Rhodes and Dr Ian Hesketh of the College of Policing, together with leading academics, staff networks and Public Health England, have designed the first ever sector-specific self assessment management tool - 'The Blue Light Wellbeing Framework' which is now available via the website 'Oscar Kilo' for employers to self-assess and get evidence based ideas.
Police chiefs have a statutory duty to manage the welfare of their officers and it is encouraging to see most forces are now signed up to the Oscar Kilo website, which brings together those responsible for wellbeing and shares learning and best practice from across the emergency services, and engaging with the Blue Light Wellbeing Framework - the sector specific self -assessment management tool.
We introduced legislation in 2015 to enable the better management of sick and injured officers and ensure forces put in place appropriate support mechanisms to enable sick officers to return to work in meaningful roles.