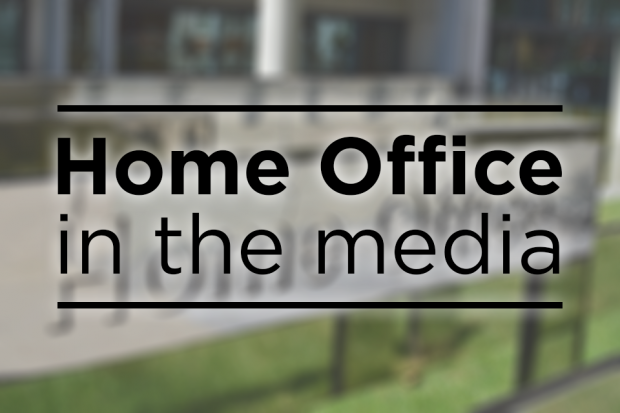 Today's papers cover the Home Office's announcement that doctors and nurses are to be excluded from the cap on skilled worker visas, as well as the publication of the Home Office's statistics on the operation of police powers under the Terrorism Act 2000.
Visa cap lifted for doctors and nurses
There is further coverage in national publications of Ministers lifting the cap on Tier 2 doctors from outside the EU.
They all note that changes to the rules will let thousands of non-EU doctors and nurses come to the UK to fill NHS shortages. This has been widely welcomed by NHS organisations.
The Independent quotes Yvette Cooper as saying that "this is the right decision". In an editorial, the Sun welcomes the Home Secretary's approach and says it is "far from the racism Leavers are accused of. It is simply common sense". The Home Secretary's statement on the changes can be found below.
Home Secretary Sajid Javid said:
I recognise the pressures faced by the NHS and other sectors in recent months. Doctors and nurses play a vital role in society and at this time we need more in the UK. That is why I have reviewed our skilled worker visa route.

This is about finding a solution to increased demand and to support our essential national services.
Terror-related arrests at "record high"
There is widespread coverage of the terror arrest statistics published by the Home Office yesterday.
The Times says that arrests in connection with terrorism "jumped to a record high" after the attacks in London and Manchester.
The Telegraph leads by saying that a record number of teenage terrorists were arrested last year, and that there are growing fears that young people are being radicalised on YouTube. The Security Minister's statement on the statistics is below.
Security Minister Ben Wallace said:
These figures demonstrate yet again the impressive work done by the police, MI5 and wider criminal justice system to keep us all safe.

Intervening early is central to our strengthened counter-terrorism strategy and through the Counter-Terrorism and Border Security Bill, we are introducing new laws giving the police the powers they need.