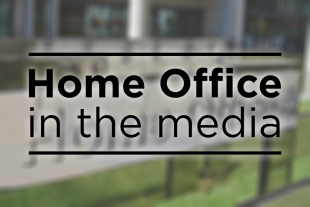 Today's Home Office in the media stories include reaction to a Home Affairs Select Committee report, findings of an independent report on extremism and radicalisation in Manchester, a forced marriage conviction and reaction to plans for changing the locks on accommodation occupied by failed asylum seekers.
Home Affairs Select Committee report on future immigration
The Telegraph, Independent, Express, Mail and Mirror report on a Home Affairs Select Committee (HASC) warning that a failure to produce a clear plan for post-Brexit immigration has left a "vacuum" for exploitation by those wishing to divide Britain.
They say that the HASC chair Yvette Cooper has called on the Prime Minister to drop the net migration target and start a national conversation on immigration in order to stop the "misinformation and tensions" of the EU referendum from re-emerging.
The Committee is also reported to have called for an "emergency break" so that ministers can introduce a seasonal scheme for agricultural workers as soon as possible.
A Home Office spokesperson said:
"We are committed to controlled and sustainable migration and are clear that free movement will end. The British people want control of our borders, and after we leave the EU we will ensure that we can control immigration to Britain from Europe, putting in place a system which works in the best interests of the whole of the UK.
"We are considering a range of options for the future immigration system that will ensure that we are in control of our borders and managing migration at a sustainable level in the national interest, while continuing to attract the brightest and best .
"We have asked the independent Migration Advisory Committee to assess the economic and social impact of EU citizens in the UK and have been consulting extensively with a variety of stakeholders - including businesses, NHS leaders and universities. We will set out initial plans in the coming months."
Manchester extremism report
The Independent cites the findings of a report from six independent commissioners in Manchester that Muslims "genuinely fear" being persecuted by Prevent, because of the lack of official information.
The report also found that Prevent does good work in tackling all forms of radicalisation, although it does cite inadequate communication as a reason why people may be less willing to engage with the voluntary scheme.
Andy Burnham, the mayor of Greater Manchester, argued a whole-society approach to vigilance and cohesion can help and referenced Operation Dovetail - pilots for moving Prevent into a local authority led response.
Security Minister Ben Wallace said:
"I strongly welcome much of this independent report. Its authors are clear that PREVENT is doing a good job and working across Greater Manchester. I agree that the biggest challenge to the policy are the inaccuracies in reporting and perception.
"It is for that reason that ever since I have been the Security Minister I have ordered the publishing of Prevent data, worked with a broad range of stakeholders and broadened out the strategy to involve local government more.
"We now have champions in Education, Health, and local Government who ensure that people understand that at its heart Prevent is about safeguarding people from being exploited and who are able to assure communities that it is not a discriminatory program."
Forced marriage conviction
The papers widely report that the parents of an 18-year-old woman who tricked her into a forced marriage in Bangladesh have been jailed.
During the trial Leeds Crown Court heard that the father threatened to kill his daughter, who is now 20, if she refused the marriage. She was freed by armed police after contacting her boyfriend in Britain.
Her father was sentenced to four and a half years and her mother to three and a half years after they had been found guilty of offences related to forced marriage and coercion.
A Government spokesperson said:
"This sentence sends a clear signal that these appalling crimes will not be tolerated and that victims who show great courage and come forward will be protected.
"The Forced Marriage Unit (FMU) and High Commission in Bangladesh, in partnership with the Bangladesh police, acted swiftly to ensure the victim was rescued and repatriated.
"The UK is a world-leader in the fight to stamp out the brutal practice of forced marriage, with our dedicated FMU leading efforts to combat it both at home and abroad."
Asylum Council urges halt to Serco eviction plan
The Guardian reports that the Home Secretary is being urged to intervene and stop a housing provider from locking asylum seekers out of their home over fears that it could leave hundreds of them destitute.
The piece says that Glasgow City Council and seven local MPs have expressed "deep concern" that an imminent mass eviction by Serco could lead to a humanitarian crisis in the city.
The company has said that it will start evicting more than 300 people who have exhausted their options in applying for asylum.
In a letter to the Home Secretary, the Council leader and the Glasgow MPs claim that the evictions risk adding to the city's homeless and rough sleeper population.
Serco has said that it is confident that its actions are legal.
A Home Office spokesperson said:
"Asylum seekers who would otherwise be destitute are provided with free, fully furnished accommodation while applications are considered. We also cover utility costs and provide a cash allowance to cover other essential living needs.
"While an asylum claim is outstanding, we would not be seeking removal. Even if an asylum claim has failed, we will provide accommodation for those who would otherwise be destitute and who are temporarily unable to leave the UK because of a practical or legal obstacle.
"However it is right that we prepare for someone's removal if they do not have a lawful basis to stay in the UK and they are not pursuing an appeal."