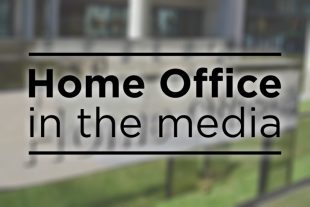 Today's Home Office stories include the Home Secretary's speech on Child Sexual Exploitation and reports of police station closures.
Child sexual exploitation online
The Mail (splash), Times, Telegraph and Express report on the Home Secretary's speech today in which he has said that more than 80,000 sexual predators are targeting children and sharing pictures of abuse.
On broadcast, BBC, Sky, ITV and the Today Programme reported this morning that the Home Secretary is "shocked" at the scale of online child abuse, and has vowed to make it his personal mission to tackle it.
The Home Secretary's speech can be found here:
https://www.gov.uk/government/speeches/keeping-our-children-safe
600 police station closures
There is widespread coverage in the papers and on broadcast this morning of the Sunday Times' story on the more than 600 police stations which have shut since 2010.
According to reports, cities such as Bath and St Albans no longer have dedicated stations, which 100 stations have been shut down in the capital.
A Home Office spokesperson said:
A Home Office spokesperson said:

Police have the resources they need to carry out their vital work. However, we know the nature of crime is changing. That is why we provided a strong and comprehensive settlement that is increasing total investment in the police system by over £460m in 2018/19, including increased funding for local policing through Council Tax precept.

Funding for the Metropolitan Police is increasing by £110m this year compared to 2017/18, including the Mayor's contribution from Business Rates and the increase in precept income. This means the Metropolitan Police is receiving over £2.5 billion in direct resource funding this year.