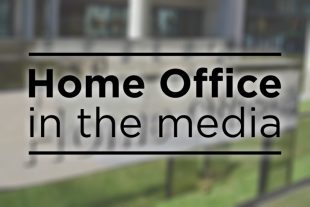 Today's Home Office stories include reports on stop-and-search, the Home Secretary's speech on Child Sexual Exploitation and reports on overseas student visas.
Stop-and-search
The Times splashes that the Home Secretary is planning a "significant" extension of stop-and-search powers.
According to the piece, the Home Secretary wants officers to be able to stop anyone suspected of carrying acid without a good reason. It notes that at present police can do so only when they have evidence that a person is about to cause an injury.
The Times also carries comments from Merseyside PCC, Andy Cooke, noting that stop-and-search is the "single greatest power that the police have to target and disrupt crime and it is wrong that it has become widely linked to racial discrimination".
A Home Office spokesperson said:
As outlined in the serious violent crime strategy we are looking at ways to strengthen police powers to identify individuals carrying corrosive substances.
Child Sexual Exploitation Online
There is continued widespread coverage across print media noting that new laws could be introduced if social media companies fail to do more to tackle online child sexual abuse.
Coverage notes that during his speech yesterday, the Home Secretary demanded technology companies to take "more measures" or face legislation.
Articles also note that the Home Secretary said it was his "personal mission" to tackle the issue.
In his speech, Home Secretary Sajid Javid said:
I've been impressed by the progress the likes of Google, Facebook, Microsoft, Twitter and Apple have made on counter-terrorism.

Now I want to see the same level of commitment for child sexual exploitation. In recent years there has been some good work in this area. But the reality is that the threat has evolved quicker than industry's response and industry has not kept up. And there are some companies that refuse to take it seriously.

I am not just asking for change, I am demanding it. And the people are demanding it too.

And if web giants do not take more measures to remove this type of content from their platforms, then I won't be afraid to take action.

How far we legislate will be informed by the action and attitude that industry takes.
Overseas student visas demand by universities
The Daily Telegraph carries a report on a call by Universities UK for a new visa that allows international students to work in the UK for up to two years after they graduate. The piece says that the university leaders want to reinstate the visa which was ended by the Government in 2012.
Radio 4's Today programme also carried coverage throughout the morning including a segment that outlined current arrangements and the calls by the group for change.
A Home Office spokesperson said:
There is no limit on the number of genuine international students who can come to study in the UK.

We recognise the cultural and financial contribution which international students make to the UK which is why we have developed an excellent post-study offer.

Graduates can stay if they get a graduate level job, get an internship or apply to set up a business in the UK. Completing PhD students are also able to stay for an additional year to gain work experience or set up as an entrepreneur.