Today's Home Office in the media stories include an investigation by the Guardian into immigration detention centres, and the case involving a woman who has become the target of the UK's first unexplained wealth order.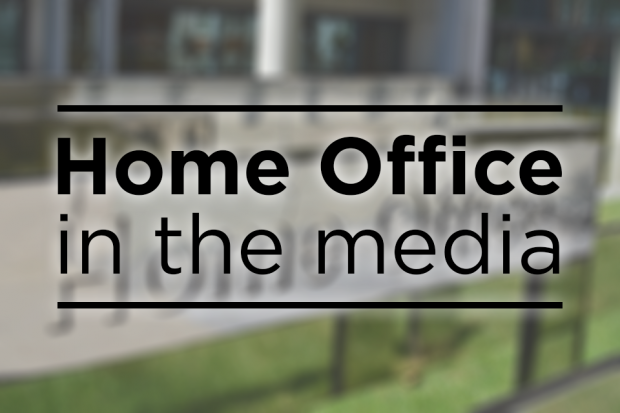 Immigration Detention Centres investigation
The Guardian splashes with its own investigation into immigration detention centres. The paper says an unprecedented snapshot of migrants held in British detention centres found more than half of the sample were either suicidal, seriously ill or victims of torture. The article reports that a survey of almost 200 detainees held in seven deportation centres in England as of 31 August, showed almost 56 per cent were defined as an "adult at risk".
The paper says the sample amounts to 8 per cent of all those held in detention at the time of survey, according to the most recent Home Office figures.
A Home Office response to this story can be found below.
A Home Office spokesperson said:
"Detention is an important part of the immigration system – but it must be fair, dignified and protect the most vulnerable.
"We have made significant improvements to our approach in recent years, but it is clear we can go further.
"The Home Secretary has made clear that he is committed to going further and faster to explore alternatives to detention, increase transparency around immigration detention, further improve the support available for vulnerable detainees and initiate a new drive on detainee dignity."
Unexplained wealth order
There is widespread coverage in print media about a woman who has become the target of the UK's first unexplained wealth order. The papers report that she has been named as Zamira Hajiyeva, the wife of an Azerbaijani state banker jailed for embezzling more than £100 million. She was previously referred to only as Mrs A, but her identity was revealed after the media argued that the secrecy surrounding the case was a an affront to open justice.
A spokesman for Ms Hajiyeva is quoted in the coverage stating that the lifting of the anonymity order "does not and should not be taken to imply any wrongdoing."
A statement on what the Government is doing to tackle corruption and illicit money can be found below.
Security and Economic Crime Minister, Ben Wallace said:
"The UK has taken a leading role in the global fight against illicit finance and criminals should be in no doubt that we will come for them, their assets and their money, using all the powers we have at our disposal.
"The Criminal Finances Act provided additional powers to allow law enforcers to recover corrupt and criminal funds including unexplained wealth.
"Our new National Economic Crime Centre will be leading that response, using the full range of intelligence and tools and maximising new powers such as Unexplained Wealth Orders and Account Freezing Orders."