Today's Home Office media stories include the Hate Crime Action Plan, modern slavery, moped criminals and domestic abuse.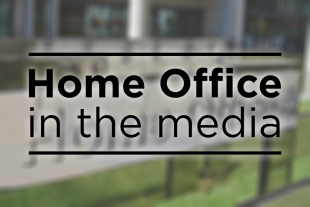 Forces 'wasting time' with hate crime
There is reporting in the Times and Telegraph on claims that the drive to target hate crime is forcing police officers to spend valuable time investigating wolf-whistles, bad manners and impolite comments.
The comments have been made by the newly-elected chairman of West Midlands Police Federation Sergeant Richard Cooke.
Sergeant Cooke has written an op-ed in the Telegraph saying forces were expected to record and follow up reports of hate crime, even when no criminal offence had taken place.
He warned police officers spending time "offering words of advice" to people would mean they were spending less time on "genuine crimes" such as burglary and violence. Sergeant Cooke added that officers feared they were being drawn into what they see as social rather than criminal issues.
The Telegraph references that the Home Secretary has announced he has asked the Law Commission to consider whether misogyny or abuse of the elderly should be considered a hate crime.
Minister for Countering Extremism Baroness Williams said:
"It is encouraging that the independent Crime Survey for England and Wales shows a 40 per cent fall in hate crime over the last decade.

"But my message to people and communities affected by hate crime is that we stand in solidarity with you, and police recording of crime clearly shows that government and police forces must not be complacent in rooting these crimes out.

"It is why today we have launched a newly updated Hate Crime Action Plan and announced a wide-ranging review of hate crime laws to be conducted by the Law Commission."
Modern slavery
On Anti-Slavery Day, City A.M reports that the Home Office has promised to name and shame businesses which fail to abide by modern slavery rules. Civil servants will be calling on 17,000 chief executives to publish annual transparency statements on their supply chains.
Home Office figures show that only 60 per cent of companies have published relevant information, and some failed to meet the requirements of the law.
Minister for Crime, Safeguarding and Vulnerability Victoria Atkins said:
"It is horrible to think some of the goods and services we buy could have been produced by someone forced into modern slavery. This is abhorrent and as global leaders in the fight against modern slavery, we will not tolerate it.

"Some businesses are already leading the way in taking action by being open and transparent about what they are doing to identify, tackle and prevent forced labour in their supply chains, but too many are still failing to meet their basic legal obligations.

"That's why the Home Office is sending letters to businesses today with a clear message that continued non-compliance will not be tolerated."
Police vow as moped menace cut by a third
The Express carries an article on how police chiefs have vowed to continue catching moped criminals after a nationwide crackdown showed positive results.
Moped crime fell by 32 per cent in London between January and August, compared with the same period the year before, the paper notes.
The crime fell after police targeted hotspots in the capital after attacks on thousands of people. The paper reports police chiefs will use similar tactics elsewhere in the country to target the crime.
Now the Government has pledged to bolster "pursuit powers" to protect police from prosecution after high-speed chases provided they act in a necessary and proportionate way.
Read more on the Government's plans to tackle moped crime here: https://www.gov.uk/government/news/fall-in-moped-crime-as-multi-agency-taskforce-produces-results
Policing Minister Nick Hurd said:
"Today's figures are testament to the fantastic work achieved by the Metropolitan Police and I'm pleased this crime has fallen by so much, so quickly.

"Drawing together existing work by the police, industry and local government and agreeing additional measures has enabled all partners to provide the multi-agency approach tackling a complex issue like this requires.

"The Met have done a superb job of targeting hotspot areas and deploying innovative and highly effective methods for stopping moped gangs in their tracks.
"I'm excited to see what we can achieve by applying a similar response to vehicle theft."
Clare's Law use among men
BBC Breakfast broadcast a package this morning on the use of Clare's Law among men.
It notes that in 23 forces, applications from men to police to obtain information on whether a former abuser is living close to them, known as Clare's Law, made up 4% or less of the requests.
The package included quotes from victims and police saying they were trying to raise awareness that men could use Clare's Law, formerly known as the Domestic Violence Disclosure Scheme.
A Home Office spokesperson said:
"We are reviewing the guidance on the Domestic Violence Disclosure Scheme and considering how to raise awareness of the scheme and share best practice nationally as part of our ongoing work on the future Domestic Abuse Bill."