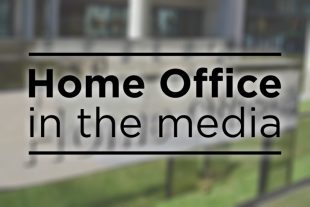 Today's Home Office stories include a hate crime incident and county line gangs.
Hate crime
The Guardian and Independent report that police are investigating an incident where eight people posed in Ku Klux Klan outfits outside an Islamic prayer centre as a hate crime.
The incident in Newtownards near Belfast sparked anger on social media and has been condemned by political and religious leaders.
A Home Offices spokesperson said:
This Government is clear that all hate crime, including that targeted towards a particular faith, is absolutely unacceptable. Religious freedom is a key part of our way of life and we stand in solidarity with those who experience this abhorrent crime.

Our refreshed Hate Crime Action Plan sets out our work to tackle underlying prejudice - supporting victims and ensuring perpetrators feel the full force of the law.
County lines gangs grooming expelled pupils
The Telegraph, Mail and the Today programme report that pupils excluded from school are being recruited into county lines gangs.
A report by Barnardo's has revealed that one in three Pupil Referral Units (PRUs) that teach excluded pupils have no vacant places, leaving children at risk of being drawn into violence and gangs. The charity said there was growing evidence that gangs were targeting vulnerable children excluded from school or in care.
The Mail references a Home Office report from earlier this month that warned that "exclusions appear to be a highly significant trigger point for the escalation of county lines involvement for children."
A Government spokesperson said:
We want every child to receive an education that fosters ambition and builds confidence in their abilities so they can have the opportunity to fulfil their potential. Permanently excluding a child from mainstream school should only ever be a last resort, and we support teachers in making these difficult decisions where they are justified.

While it is not clear what role exclusions plays in crime, it is vital that young people who are excluded from school still engage with high-quality education. But we need to be just as ambitious for pupils in alternative provision as we are for those in mainstream schools.

That's why, alongside the review of exclusions led by Edward Timpson, we are transforming alternative provision to improve outcomes for these children which helps them to flourish, backed by our £4 million innovation fund that has created nine new projects around the country.