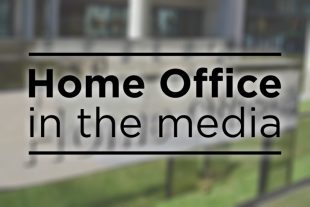 Today's Home Office stories includes a new report on Modern Slavery.
Modern slavery report
The Independent reports that according to new research by the Winston Churchill Memorial Trust, Britain is "lagging behind" in efforts to tackle modern slavery as authorities are focusing too heavily on law enforcement while failing to address victim support.
According to the piece, police, lawyers and charities have endorsed the findings saying that survivors must feel safe in order for them to come forward and give evidence against the criminals who exploited them and urged the Home Office to increase investment in supporting victims.
A Home Office statement was carried.
A Home Office spokesperson said:
The Government is committed to identifying and supporting the men, women and children who are victims of modern slavery, to recover from their exploitation and rebuild their lives.

Adults identified in the NRM can receive specialist and tailored support through the Victim Care Contract, where they can receive accommodation, financial support, assistance in accessing mental and physical health care including counselling, and access to legal support.

We have been clear that, as set out in the Modern Slavery Act, victims of modern slavery should not be prosecuted for criminal offences they were forced to commit as a result of exploitation.

We have commissioned an independent review of the Modern Slavery Act which will consider the implementation of the statutory defence for victims and help us to identify what more we can do to tackle these terrible crimes.