Today's Home Office stories include on paedophiles grooming children live on YouTube and Heathrow Airport helping foreign staff apply for settled status.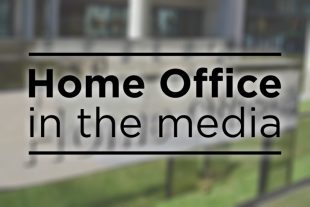 Paedophiles grooming children live on YouTube
The Times reports on an investigation which it says has uncovered paedophiles harnessing livestreaming on YouTube to groom children.
The paper has discovered more than 100 grooming cases in which young people who broadcast online were manipulated into inappropriate behaviour by strangers.
According to the paper, children were promised thousands of extra subscribers to their channels if they complied.
A Home Office spokesperson said:
We have been clear that we expect tech companies to remove child sexual abuse content when they find it, stop online grooming and shut down live streaming.

The Home Secretary has been encouraged by companies coming together to develop and deploy new tools to tackle online grooming at the Hackathon he co-hosted last month.

But investigations like this demonstrate that platforms must go further and faster in their efforts to tackle this appalling online abuse.

New laws will be informed by the action and attitude the industry takes and we will be setting out plans for legislation in the forthcoming Online Harms White Paper.
Heathrow to help foreign staff apply for settled status
Heathrow Airport will pay for its 350 eligible employees who are EU nationals to apply for the EU Settlement Scheme, the FT reports.
According to the paper, the airport will cover the £65 application fee for settled status at a total cost of £22,750.
John Holland-Kaye, chief executive, said that it was "critical" for the airport to have diverse and happy colleagues.
A Home Office spokesperson said:
The EU Settlement Scheme will make it simple and straightforward for EU citizens to get the status they need.

It is a matter for individual employers to decide whether they wish to pay the EU Settlement Scheme fee on behalf of an applicant. The cost of applying to the scheme is less than the cost of renewing a British passport, and EU citizens have until June 2021 to apply.
Jihadis plan UK chemical attack 
There is further coverage in the Times and Mail reporting that security sources say a chemical weapons attack in Britain is now "more likely than not". This follows the interception of "chatter" between senior figures in Daesh. Coverage states that the terror group has been inspired by the poisoning of former KGB agent Sergei Skripal and his daughter, Yulia, by Russian agents in March.
Both articles carry a statement by the Security Minister stressing that the UK has well-tested plans to respond to an attack and minimise the impact, should an incident occur.
Security Minister Ben Wallace said:
Over the last twelve months I have consistently warned that a chemical attack in the UK is getting more likely and our counter-terrorism strategy, CONTEST, includes specific action we are taking to respond.

As well as restricting access to the materials that could be used in an attack, the police and MI5 have powers to identify, investigate and stop potential attackers.

We also have well-tested plans to respond to an attack and minimise the impact, should an incident occur.