Today's Home Office stories include the interception of a suspected migrant boat in the English Channel and the rejection of a Windrush judicial review bid.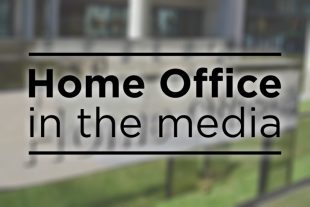 Suspected migrant boat intercepted in Channel
There is widespread coverage this morning of a suspected migrant vessel that was intercepted in the English Channel.
The BBC's Today programme noted that it is the latest in a number of attempted crossings from mainland Europe in small vessels.
The Home Office has confirmed that six people were discovered on board. The groups presented themselves as Iranian nationals.
A Home Office spokesperson said:
Border Force was contacted by the coastguard at around 3am on Tuesday 11 December.

A Border Force cutter and a lifeboat were deployed to assist a dinghy off the coast of Dover with six people on board.

The group consisted of five men and one women. All have presented themselves as Iranian nationals.

They received a medical assessment and have now been transferred to immigration officials for interview.
Windrush judicial review bid rejected
The Guardian, the Times and Independent report that a member of the Windrush generation has had a legal challenge against NHS charges for overseas patients rejected.
The man, 58, and named only as 'MP', had sought a judicial review after he required blood cancer treatment.
He had arrived in the UK from St Lucia aged 14, the papers say.
Despite 'MP' having his bid for a judicial review rejected, he will no longer have to pay for his cancer treatment after winning an appeal over his immigration status.
A Home Office spokesperson said:
The Home Office's top priority is to right the wrongs experienced by the Windrush generation.

A range of action has been taken. A taskforce is supporting all those who arrived in the UK many years ago to demonstrate their right to be here.

A public consultation on a compensation scheme for all those affected has just closed and separately we have launched a lessons learned review to look at what led to this occurring in order to ensure that nothing like it happens again.