Today's Home Office stories include a Home Office warning on counterfeit goods and the latest on the interception of two migrant boats in the English Channel.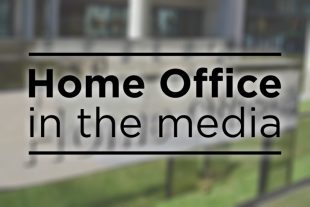 Home Office warns against counterfeit goods
The Metro reports the Home Office has warned that buying fake goods could help support sweatshops, child labour and even terrorism.
The paper says that shoppers are being urged to avoid counterfeits this Christmas as millions of goods each year are seized that carry health and safety risks as they have not been through the same rigorous testing used by official retailers.
Border Force has said that using counterfeit websites can compromise user's personal banking details and is advising shoppers to avoid purchasing fakes.
Immigration Minister Caroline Nokes said:
Counterfeit goods, especially electronics and beauty products, can risk the safety of consumers, and allow organised criminals to take money from honest retailers and public funds.

Border Force are at ports, airports, and mailing rooms, working hard to keep these knock-off goods out of the country, depriving criminals of illicit profits and keeping consumers safe.

I would also urge the public to take precautions so that these products don't end up under their Christmas tree.
Migrants saved in the English Channel
The Times and Daily Star both report on the latest attempted crossing of the English Channel by suspected migrants in small boats.
Two separate boats saw 14 migrants picked up by Border Force cutters in the Channel yesterday, the Times reports.
It adds that French prosecutors believe the surge in attempted crossings is down to people smuggling gangs warning that it will be harder to enter the UK after Brexit.
A Home Office spokesperson said:
We have stepped up deployments of our coastal patrol vessels along the South-East coast.

We know there is organised criminal gang activity behind these attempts to cross the Channel, and the Government is working with domestic and international agencies, including the French authorities, to coordinate our response.