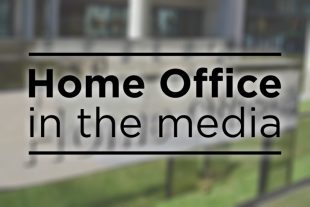 Today's Home Office story includes reports on the immigration White Paper and coverage of a Neo-Nazi couple being jailed.
Immigration white paper
There is widespread coverage in print and broadcast this morning on the white paper.
Print coverage reports that the Home Secretary is expected to publish a "long-delayed" white paper on Britain's new immigration regime.
According to reporting, Whitehall sources said final drafts of key passages of the document were still passing between departments on Tuesday night, but it would make clear the government is "not prepared to offer EU migrants preferential access to Britain's labour market". The articles highlight that instead, the £30,000-a-year minimum salary threshold that is already imposed on non-EU workers will also apply to migrants from the EU27, although there may be further consultation about how the system will operate. All articles further highlight that the Conservative target of cutting net migration to the "tens of thousands" is missing from plans for the post-Brexit immigration system.
On broadcast, the Immigration Minister was interviewed by Sky News, BBC Breakfast, 5 Live and GMB. She highlighted that a system based on skills, not nationality, will be introduced in order to bring migration to a sustainable level. On the income threshold, she stated that we are looking at the £30,000 figure the MAC advised, but this is the "start of conversation with industry and care sector".
During a Today Programme interview, the Home Secretary said that with the right immigration system – one that is focused on skills – there is no reason to think there will be economic damages. He stressed that other countries that have no such thing as freedom of movement are perfectly able to be prosperous.
Home Secretary Sajid Javid said:
We are delivering on the clear instruction to get control over our borders and will bring in a new system that works in the interest of the British people.

It will be a single, skills-based immigration system built around the talent and expertise people can bring, rather than where they come from – maximising the benefits of immigration and demonstrating the UK is open for business.
Neo-Nazi couple jailed
There is widespread coverage of Neo-Nazi couple, Adam Thomas and Claudia Patatas, being jailed as members of a proscribed organisation.
The Telegraph reports that the couple, who named their baby son after Hitler, have been found guilty of being members of the extreme right-wing organisation National Action, which was banned in 2016.
The Times says the couple had intended to "wage a holy war" against black people, Jews, Asians and homosexuals, and had stockpiled weapons at their home in Banbury, Oxfordshire.
A Home Office spokesperson said:
We are determined to tackle the threat presented by extreme right-wing terrorism, as we are all forms of terrorism, which is why this Government banned National Action in 2016.

Keeping our communities safe and secure remains a top priority. Alongside the work to disrupt terrorist activities, we are also supporting those who are at risk of radicalisation through the Prevent programme.