Today's Home Office stories include coverage of the incident on the M6 last night, the fatal stabbing in Waltham Forest and NSPCC's domestic abuse report.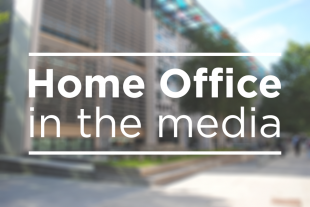 M6 incident
There is widespread reporting of an incident on the M6 last night during which 27 migrants were discovered in the back of a lorry after some had jumped out and attempted to run away.
The response by police and Immigration Enforcement led to traffic delays as the road was closed in both directions near Keele in Staffordshire, the Mirror reports.
All 27 migrants were detained before being given a medical assessment and transferred to immigration officials for interview, the papers report.
The driver, 42, was arrested on suspicion of immigration offences.
The Home Office has confirmed that immigration officers were contacted by Staffordshire Police on Wednesday 9 January after officers attended an incident on the M6 motorway. 27 individuals have been medically assessed and subsequently transferred to immigration officials for interview. Immigration Enforcement officers are also interviewing the driver of the lorry.
Teenager fatally stabbed
There is further coverage this morning on the recent fatal stabbing of 14-year-old Jayden Moodie in Waltham Forest on Tuesday.
Jayden was knocked off a moped before three men got out of the car which had collided with him and stabbed him in what is believed to be a targeted attack.
The Telegraph also carries a quote from Detective Chief Superintendent Richard Tucker, who is leading the investigation, and who has appealed for witnesses, saying: "Be shocked. Be appalled. We shouldn't have to live like this."
In a leader column the paper asks why the Mayor of London Sadiq Khan has let the capital become 'the fiefdom of gangsters' and that MPs should show the same concern for knife crime victims as they have shown for their own safety outside Parliament this week.
Elsewhere the Mail reports that the local council has pledged £3 million to tackle gang crime, with children as young as 10 known to be caught up in the drugs trade.
A Home Office spokesperson said:
We are working to tackle violent crime and its devastating consequences through our Serious Violence Strategy, which puts a greater focus on early intervention, alongside strong enforcement.

The Strategy is also enabling a more coordinated approach involving a range of agencies, including the police, community groups, local authorities, education, health.

Our brave police officers are essential to this effort, which is why we last week announced an increase to police funding of up to £970m, the most substantial increase since 2010.
Call for children to be classed as victims of domestic abuse
The NSPCC has said that at least 250,000 children should be classed as victims of domestic abuse, the Telegraph reports.
The charity contends that the Government's current legal definition of domestic abuse fails to recognise the mental and emotional damage children may suffer as a witness to abuse within the family.
They state that official figures show that domestic abuse was a factor in 246,720 cases last year where children were assessed to be in need of protection but were not classed as victims.
A Home Office spokesperson said:
We are determined to ensure anyone facing the threat of domestic abuse in any form has somewhere to turn to. This Government will soon be publishing its draft Domestic Abuse Bill, which will transform our response to these crimes.

We fully recognise the devastating effect that domestic abuse can have on children. That is why last year we launched an £8million fund for projects designed to intervene early to help children who have been directly or indirectly affected by domestic abuse.

We have awarded £163,000 to Operation Encompass, a charity which supports children who attend school following a domestic abuse incident.