Today's Home Office stories include drones disrupting flights at Heathrow airport, and a report that suggests regional counts of migrants could be out by thousands.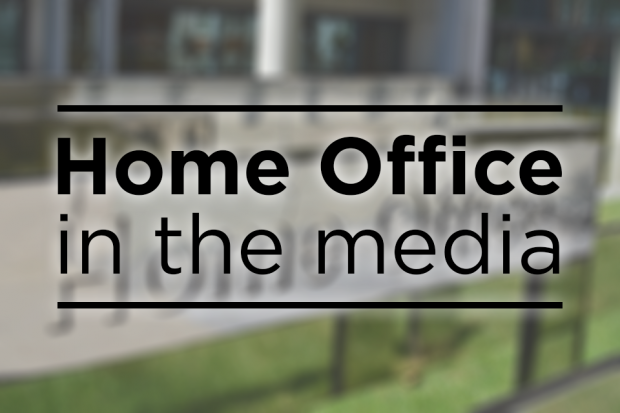 Drones at Heathrow
The front page of the Times and CityAM report on the drone sightings over Heathrow which led to departures from the airport being halted for around one hour last night. The incident is also covered by the FT, Telegraph, Guardian, Independent, Daily Mail, Express, Mirror, Star and The Sun.
The drone was sighted shortly after 5pm, leading to the northern runway being closed, although flights were still able to land on the southern runway. The incident comes 18 days after repeated drone sightings at Gatwick Airport led to over 1,000 flights being disrupted.
Print coverage in the Times, Guardian, Telegraph reports that the Government had confirmed that military equipment used at Gatwick was ready to be deployed to Heathrow before the incident was stood down. This morning, the BBC website is running a statement from the Ministry of Defence, stating this equipment has now been deployed at the request of the Metropolitan Police, but that the department had declined to give further details of the precise nature of the equipment.
There is also wide mention of the reported purchase by Heathrow and Gatwick of anti-drone technology. The Times and Guardian report that new trials of counter-drone measures are being trialled by the Home Office. The Mail reports that Security Minister Ben Wallace has pledged to deploy detection systems throughout the UK.
A Heathrow airport spokesperson confirmed that they are working with the Met to investigate the incident. This story also received significant interaction online, with two BBC News stories receiving 57,000 and 54,000 interactions. Another 20+ articles on the incident received between 5,000 and 14,000 interactions.
The Department for Transport has issued the following guidance on police powers to tackle illegal use of drones: https://www.gov.uk/government/news/new-police-powers-to-tackle-illegal-use-of-drones
Migrant counts could be out by thousands
The Times reports that regional counts of migrants could be out by thousands. The Social Market Foundation report that migrant influx has meant that census and survey information is rapidly out of date.
The official estimate of 9.4 million people living in the UK who were not born there could be out by 145,000 either way the Foundation claims. The foundation wants an overhaul of data on migration and recommends more use of information from social media such as Facebook. The Office for National Statistics says it has already begun an ambitious programme of work to overhaul such statistics and that it recognises the value of alternative data sources. The Telegraph, FT and Sun also reports on this.
A Government spokesperson said:
"It is vital that refugees and migrants are able to integrate into local communities. The Government's Integrated Communities Strategy Green Paper set out a number of proposals to ensure migrants receive information about life in the UK and have opportunities to learn English.

"The £140 million Controlling Migration Fund supports local authority projects that mitigate the impacts of recent migration on local communities. This can include projects to promote social cohesion and offer additional support to local authorities and other services."