Today's Home Office stories include the launch of the draft Domestic Abuse bill, the rollout of public testing of the EU Settlement scheme and plans to make the Immigration Rules easier to navigate.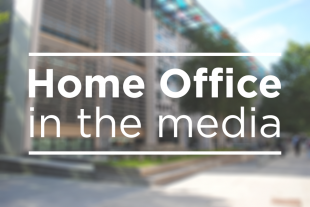 Domestic abuse bill measures
There is widespread coverage in the papers, online and on broadcast of the Government's ground-breaking draft Domestic Abuse bill.
Many of the papers report on plans for men who are convicted of the most serious types of domestic abuse to be forced to take  lie detector tests in a bid to better protect victims.
The Telegraph focuses on how men or women who mistreat their partners face up to five years in prison if they breach new domestic abuse protection orders designed to change their behaviour. Online, the paper carries an op-ed from the Minister for Crime, Safeguarding and Vulnerability.
A number of outlets highlight Home Office analysis, which showed the cost of domestic abuse in England and Wales to be £66billion – with £47bn is attributed to the physical and emotional harm caused by domestic abuse. 
Minister for Crime, Safeguarding and Vulnerability, Victoria Atkins said:
I have heard absolutely heart-breaking accounts of victims whose lives have been ripped apart because of physical, emotional or economic abuse they have suffered by someone close to them.

The draft Domestic Abuse Bill recognises the complex nature of these horrific crimes and puts the needs of victims and their families at the forefront.

This Government is absolutely committed to shining a light on domestic abuse to ensure this hidden crime does not remain in the shadows.
Settled Status plan risks new Windrush
There is widespread coverage of the opening of the public test phase of the EU Settlement Scheme.
Many outlets focus on a report by British Future on the EU Settlement Scheme, with most outlets reflecting concerns raised that thousands of Europeans in Britain may be left without legal status.
A Home Office spokesperson said:
The EU Settlement Scheme will ensure all EU citizens living in the UK will have a status granted by the Home Office which they can use to demonstrate their right to work, housing and benefits.

It will be simple and straightforward for EU citizens to get the status they need. They will only need to complete three key steps - prove their identity, show that that they live in the UK, and declare any criminal convictions.

We have completed two successful private testing phases with tens of thousands of applications and customer feedback was overwhelmingly positive.

We are working in partnership with vulnerable group representatives, local authorities and other experts to make sure we reach everyone. 
Plans to make immigration rules simpler
The Mirror reports that Immigration rules will be presented in clearer language to make them more user-friendly.
The Law Commission was asked by the Home Office to set out ideas to make the rules easier to understand and follow, the paper reports.  The Commission's consultation launched today.
Part of a Home Office statement is carried.
A Home Office spokesperson said:
The Immigration Rules play a vital role in our efforts to attract leading global talent whilst maintaining effective border control.

However, we recognise that they could be made simpler and more accessible to the user. That is why we asked the Law Commission to undertake a project to see how the Rules could be simplified. We will consider the findings carefully.