Today's Home Office stories include a broadcast report on knife crime on Britain's railways and county lines gangs, and measures the Home Office is taking to combat money laundering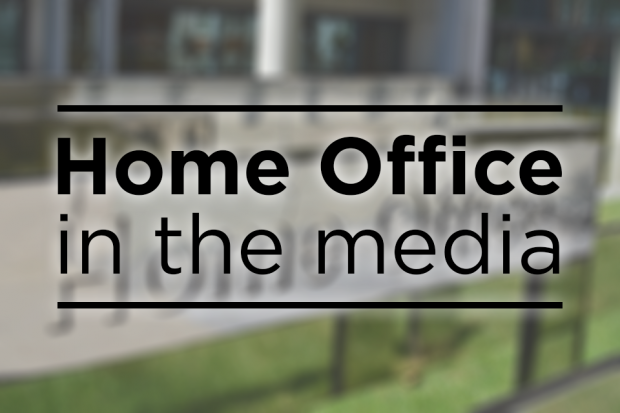 Knife crime on railways
BBC Breakfast carries a report on knife crime on Britain's railways, which has reportedly more than tripled in the past four years, according to British Transport Police.
Figures seen by BBC Breakfast show that in 2015 there were 338 crimes involving knives. By 2018, that had risen to more than 1,000. At least a quarter of knife victims on the rail network were teenagers.
The National Crime Agency is quoted saying that the rise of inner-city gangs dealing drugs in rural areas, known as "county lines", has contributed to the increase. British Transport Police says that knife crime is still rare and that, for every million passenger journeys, only one involves any form of violence.
A Government spokesperson said:
Your chances of being a victim of crime, on the railways or elsewhere, remains extremely low. But we know that violent crime has increased and we are working to stop it.

Through our Serious Violence Strategy we are tackling knife crime and county lines gangs by putting greater emphasis on early intervention, alongside a tough law enforcement response. Meanwhile our Offensive Weapons Bill will give the police extra powers to tackle knife crime.

Last year we launched the National County Lines Coordination Centre, which has significantly strengthened the police response, and led to a number of arrests and the safeguarding of hundreds of vulnerable people.
Home Office leads fight against money laundering
The Financial Times carries a report on the fight against money laundering, leading on the Home Office overhauling its approach to tackling illicit funds.
The report claims the Home Office will hand new money to the National Crime Agency to overhaul suspicious activity reports (SARs) to make them "fit for purpose".
It claims that that NCA is inundated with 20 times more SARs than originally anticipated – with banks using them as a defence mechanism to avoid being punished for dirty money going unreported.
Home Office comments are carried, in which it pledges to "co-design a new SARs system that will be more efficient and effective".
Home Secretary Sajid Javid said:
We need to take action on all fronts to target the corrupt fraudsters who are lining their pockets with dirty money and living luxury lifestyles at the expense of law-abiding citizens.

The Government is already investing millions in the fight against economic crime, but it is crucial we work closely with our financial sector partners to win this battle.

These criminals threaten the UK's reputation as a world-leading place to do business and we have a joint responsibility to stop them.