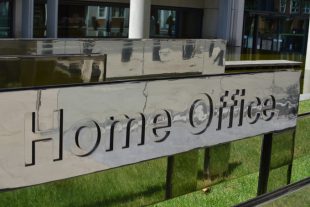 Today's Home Office related story includes further reports on Knife Crime Prevention Orders.
Knife Crime Prevention Orders
The Home Secretary's announcement of new Knife Crime Prevention Orders continues to receive coverage in the morning papers.
The Daily Express carries a comment piece that is largely-supportive of the measure. It calls for the Orders to be "welcomed" and adds "[Mr Javid] is a father who, like any other, worries for the safety of his own teenage children".
In an interview with the Evening Standard, the Policing Minister declared it his "personal mission to stop more broken and shattered families" from being torn apart by knife crime.
The Home Secretary, Sajid Javid, said:
I have been clear that I will do everything in my power to tackle the senseless violence that is traumatising communities and claiming too many young lives.

The police already have a range of measures they are using to keep our streets safe, but there is more we can do to help them in this battle. I have listened to their calls and will be introducing these new orders to stop gang members carrying knives in the first place.

It is vital we continue to focus on improving the law enforcement response while at the same time steering young people away from criminal activity in the first place.