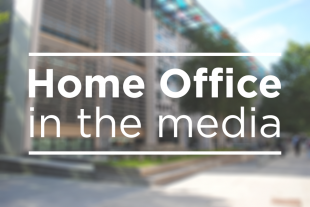 Today's Home Office stories include coverage of online grooming, immigration statistics and violent crime.
Warning over number of groomed children online
There is widespread coverage on figures obtained by the NSPCC showing that more than 5,000 online grooming offences were recorded by police in England and Wales last year. The story is being carried prominently on Sky News, BBC News, Good Morning Britain and BBC Today programme.
The figures suggest Instagram, Facebook and Snapchat have been used in 70% of cases of sexual communication with a child since it became an offence in April 2017.
The charity accused social media firms of 10 years of failed self-regulation and described the internet as the "Wild West web", BBC Breakfast reported.
Most victims are in their teens but many are younger - including one who was just five-years-old, the NSPCC report stated.
The report, also covered by the Times, Independent, Mail, Express, Telegraph and Mirror, finds that Instagram has seen the biggest abuse in targeting children, while Snapchat and Facebook are also widely used by abusers. The figures were obtained by NSPCC and FOI requests to police forces in England and Wales.
A Home Office spokesperson said:
We want the UK to be the safest place to be online, especially for children. The Home Secretary and Culture Secretary have both engaged tech firms about their responsibilities towards protecting people.

The Home Secretary hosted a Hackathon in November 2018 to combat online grooming, and announced a £250,000 innovation call for organisations to bid for funding to assist them in developing innovative solutions to disrupt livestreaming of abuse.

Our forthcoming Online Harms White Paper will set out a range of measures to tackle online harms, including grooming, and set clear responsibilities for tech companies to keep UK citizens safe.
Immigration statistics
There is widespread coverage of yesterday's immigration statistics.
Coverage notes that net migration of EU migrants to the UK has dropped to its lowest level since 2009, claiming that eastern European citizens choose to leave or stay away.
The Office for National Statistics said that net migration from EU countries had dropped to 57,000 people in the year to September 2018. Total net migration remained broadly unchanged from a year ago, but the figures mask a shifting pattern since the Brexit vote, the Guardian reported.
The Times notes that since the Brexit referendum EU net migration has fallen by 70 per cent, driven partially by a drop in the number of migrants arriving from Poland, Hungary, Czech Republic and five other east European countries that joined the bloc in 2004.
The Sun and Mirror focuses on how migration to the UK from outside the EU had risen at a much faster rate.
Immigration Minister Caroline Nokes said:
The UK is continuing to attract and retain highly skilled workers, including more doctors and nurses, while talented international students are benefiting from our world leading universities and boosting our economy.

However, we are committed to controlled and sustainable migration. As we leave the EU, our new immigration system will give us full control over who comes here for the first time in decades, while enabling employers to have access to the skills they need from around the world.

We've always been clear that we want EU citizens to stay here, and the EU Settlement Scheme is making it simple and straightforward for EU citizens to get the status they need.
Violent crime
The Telegraph reports that while London has been "hitting the headlines" with its terrifying tally of murders, Birmingham, has been "giving it a run for its money".
The paper notes that despite the fact 2018 was the capital's "bloodiest" year for a decade, Birmingham's murder rate per capita, was even higher during the six months between April and September. While London recorded seven murders for every one million people in the capital, Birmingham recorded 9.7 during the same period.
It carries comments by the Chief Constable of West Midlands Police Dave Thompson, warning that the level of murder in his city had reached "crisis level" and called for "intensive and urgent action" in order to "arrest" the problem.
The paper also notes that such is the concern over the upsurge in violence that West Midlands Police has introduced a "Section 60" across the city, meaning that officers can carry out a stop and search without reasonable suspicion.
A Home Office spokesperson said:
Knife crime is devastating communities and destroying lives, which is why we are working hard to tackle it.

We are investing around £220million in early intervention, including £1.8m on anti-knife projects in the West Midlands. West Midlands Police will receive up to £34 million extra funding next year through our funding settlement.

As recently as last Friday the Home Secretary visited police in Birmingham to see first-hand the work our brave officers are doing to combat knife crime and gang activity, and to listen to their views on what more can be done to end this deadly cycle of violence.