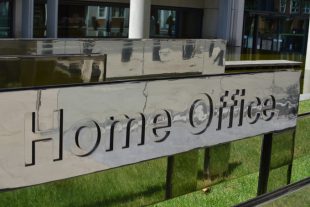 Today's Home Office stories include the stabbing in Stanwell which police are treating as terror-related, and a grooming victim's campaign for victims to be pardoned for crimes committed while they were being abused.
Sammy's Law
The Times reports that victims of grooming gangs are having their career prospects damaged by having to disclose criminal convictions linked to their sexual exploitation.
Sammy Woodhouse, a survivor of the Rotherham grooming gang, has launched a campaign for 'Sammy's Law' to pardon those convicted of crimes they committed as exploited children.
A Home Office spokesperson said:
The Government wants to ensure that all victims and survivors of sexual abuse and exploitation feel that they can come forward to report abuse, and that they get the support they need when they do.

Minister Victoria Atkins met Ms Woodhouse to discuss her experiences and what more can be done to help victims and survivors of exploitation.

We are committed to working across Government to ensure these people are able to move on from the abuse they have suffered, including those with criminal convictions or cautions.
Stanwell stabbing 'terror-related'
Media widely report that police believe the stabbing of a 19-year-old man in West London was a terror attack inspired by right-wing extremism.
The Guardian, Star, Sun, Express, Independent, Mail, Telegraph, Mirror and Times report comments made by the Metropolitan Police's Assistant Commissioner Neil Basu, who said it had "all the hallmarks of a terror event inspired by the far-right".
The newspapers report the attacker shouted "kill a Muslim" before the attack. The victim remains in hospital with non-life threatening injuries while his alleged attacker was arrested on suspicion of attempted murder.
Home Secretary Sajid Javid said:
We must stand together as a society and reject the terrorists and extremists who seek to divide us.

Now's the moment for us all to challenge the hatred, ignorance and violence they peddle and stand up for the kind of country we are and want to be.