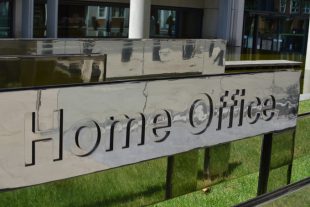 Today's Home Office stories include reports of fatal stabbings in west London and Somerset, and the launch of a publicity campaign to promote the EU Settlement Scheme
Knife crime
The Mail, Guardian, Express, Times, Independent and Metro report on the fatal stabbing yesterday of a shopkeeper in Pinner, west London. The BBC also reported on the incident this morning.
The 54-year-old was killed as he opened his corner store at around 6am yesterday. Nick Hurd, the Policing Minister and local MP for Ruislip, Northwood and Pinner, tweeted that he was 'deeply saddened' by the killing.
The Mail notes that six people were stabbed in a 12-hour period in the capital over the weekend. There have also been two stabbings in the West Midlands and eight people have been arrested after a man in his 30s was stabbed to death in Somerset.
The Express and Times also report on the death of Abdulrashid Mahamud, a 17-year-old who was stabbed to death in Isleworth, west London, on Friday night.
Home Secretary Sajid Javid has appointed charitable foundation Impetus to deliver the £200m Youth Endowment Fund – part of the government's long term plan to tackle serious violence.
The fund will support programmes and community partnerships working with children at risk of being drawn into crime and violence.
EU Settlement Scheme
The Metro and BBC Today programme reports that a £3.75m campaign encouraging EU nationals to secure their status is being launched today.
Advertising will appear on billboards, as well as catch-up TV, radio and social media before the settlement scheme opens fully this weekend.
Immigration Minister Caroline Nokes said:
It is my priority to make sure that EU citizens, who have built their lives here and who have contributed so much to our society, continue to feel welcome in the UK.

That is why I am launching this UK wide campaign, which will include billboards and radio advertising, so that everyone who is eligible knows how to apply and gets the status they need.

I want EU citizens to stay and to continue to call the UK their home and I would encourage all EU citizens to apply once the Scheme goes live.