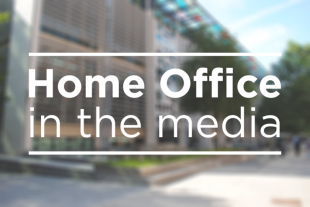 Today's Home Office stories include an interview with outgoing NPCC chair Chief Constable Sara Thornton.
Sara Thornton
The Guardian, Mirror and Mail report on comments from Sara Thornton as she steps down this weekend as chair of the National Police Chiefs' Council. She said that Government cuts have left police retreating from the streets, solving just one in 10 offences and "really struggling" to deal with routine crime.
In the interview to mark her departure as NPCC chair and after 33 years of policing, CC Thornton said she wanted to see an end to the blame culture when policing goes wrong and for a recognition that officers were dealing with some of society's worst problems.
A Home Office spokesperson said:
This year the Home Office has increased funding for the police by more than £1 billion, including council tax and funding to tackle serious violence – the most substantial investment in policing since 2010.