Today's Home Office stories include a high court judgement on paid activities in immigration removal centres, and a new poster campaign on Project Kraken.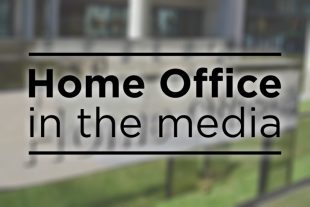 Paid activities for immigration removal centre detainees
The Guardian, Telegraph and Sun report that a high court judge has ruled wages of £1 an hour paid immigration removal centres are lawful.
The Guardian reports that five former immigration removal centre detainees challenged the rate, which they called "slave labour wages".
The Telegraph reports that the judge found the policy lawful and ruled that the work is there to relieve boredom for detainees, not to provide them income.
The Guardian says that the public law firm that brought the legal challenge, Duncan Lewis, has said they will appeal the decision.
A Home Office spokesperson said:
The longstanding practice of offering paid activities to people in immigration detention centres helps to keep them occupied whilst their removal is being arranged. This practice is not a substitute for the work of trained staff due to the voluntary nature of the roles offered to detainees.

Whether or not they wish to participate is entirely up to the detainees themselves, but the numbers of detainees volunteering for paid activities across the detention estate is evidence that the jobs are popular.
Project Kraken poster campaign
The Telegraph reports that the Government has launched a poster campaign calling on the people of Dover to look out for people attempting to land on beaches this summer.
The paper says that the multi-agency campaign between UK Border Force, the National Crime Agency and Kent Police is aimed at encouraging people to report suspicious boats. The posters have been distributed in Dover and Deal in Kent.
Dover MP Charlie Elphicke is quoted in the article as saying that although it is important for people to be vigilant, stronger border security is needed on the French side of the Channel, and that the best deterrent for migrant crossings is for "traffickers to know they will not succeed".
A Home Office spokesman said:
Project Kraken is a long running nationwide campaign that supports the operational activity that Border Force is engaged in every day to protect the UK from all forms of maritime crime.

Border Force operations are informed by a range of intelligence sources, including law enforcement partners at home and abroad, and the general public can also play an important role.

People who live and work along the coast can report suspicious activity online or by calling the local police on 101, information will be shared with the relevant agency and investigated.