Today's Home Office stories include abuse against retail workers, immigration removals and the jailing of a people smuggler.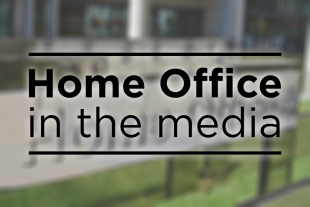 Shop staff abuse
The Express reports that more than 80 per cent of convenience store workers have been subjected to verbal abuse during the past year, according to a study by the Association of Convenience Stores (ACS).
The paper reports that the study has uncovered shocking levels of abuse, theft and physical violence towards the nation's shopkeepers and references the death of shopkeeper Ravi Katharkamar who was stabbed in north west London this week.
The paper reports that the study estimates there have been 10,000 incidents of violence, and that 48 per cent of staff surveyed have been victims of violence or verbal abuse.
A Home Office spokesperson said:
Retail workers play a vital role in the UK economy and any form of violence or abuse towards them is totally unacceptable.

That is why we are launching a call for evidence on violence and abuse toward shop workers to help ensure we fully understand this issue and how to stop it.

This is in addition to our ongoing work with industry and the police through the National Retail Crime Steering Group, which helps ensure retailers have what they need to prevent and manage violent incidents.
Trucker who smuggled 21 people into UK jailed
The Mail reports that a Romanian truck driver who smuggled 21 Vietnamese adults and children into Britain inside the "modern equivalent of a slave ship" has been jailed.
Border Force officers in East Sussex found ten people in one cramped hide and 11 in another, including six to eight children.
The Mail reports that Duma was jailed for six years yesterday after he pleaded guilty to assisting unlawful immigration.
Tim Kingsberry, Director of Border Force South, said:
A series of "coffin" like areas had been created within the load of water to hide the 21 people. This was a carefully planned attempt to circumvent the UK's stringent border controls and is testament to the work of Border Force that it was foiled.

Border Force officers will continue to work with law enforcement colleagues to ensure that people smugglers and traffickers, who have no concern for those whose lives they so often put at risk, face the full consequences of their crimes.