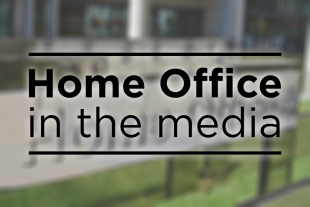 Today's Home Office stories cover serious violence, visa fees and sanitary products in police custody.
Serious violence
There is coverage of the Home Office launching a £1.4million social media hub to help tackle serious violence.
The Mail and Express report that a 17-strong team of police staff and officers will start from next month to disrupt and remove gang-related online content.
The Home Secretary vowed to take on the internet firms he claimed were 'increasingly' promoting harmful content after a meeting with Facebook and Google yesterday, the Mail reports.
The papers report that the announcement came after social media giants were criticised by the Home Affairs Select Committee for allowing 'cesspits' of extremist content.
Home Secretary Sajid Javid said:
"Social media is increasingly being used as a platform to incite violence, promote gang culture and legitimise the use of knives. I will not let this continue.
"Tech firms have been making progress in tackling this harmful content, but more needs to be done. Our Online Harms White Paper will ensure they have a legal duty to protect their users and by meeting routinely, in forums like the Serious Violence Taskforce, we can continue to hold these companies to account.
"But we also need the strongest possible law enforcement response. The national police social media hub will ensure a team of dedicated officers are identifying and taking action against gang-related content."
Visa fees
The Telegraph and Guardian report that a cross-party group of MPs have urged the Home Secretary to waive visa fees for Commonwealth soldiers who want to stay in the UK after their service.
In a letter signed by 133 MPs from eight different parties, Sajid Javid is asked to recognise "the nation's respect" for Commonwealth servicemen and women who have served in Britain's armed forces.
A Home Office spokesperson said:
"The Government highly values the service of all members of HM Forces, including Commonwealth nationals.
"We are committed to upholding our obligations under the Armed Forces Covenant, to ensure that no one who is serving, or who has served, or their family members are disadvantaged as a result of their service.
"Income from fees charged for immigration and nationality applications plays a vital role in our ability to run a sustainable immigration and nationality system and minimize the burden on the taxpayer. The Home Office reviews fees on a yearly basis."
Sanitary products in police custody
A report in the Independent notes that women held in police custody are to be given free sanitary products.
According to the report, the Home Office has changed the law to "ensure all menstruating women, and others with personal health and hygiene needs, are treated with dignity whilst in custody".
The Independent Custody Visiting Association wrote to the previous Home Secretary to demand the change after an inspection revealed "shocking conditions".
Minister for Policing and the Fire Service, Nick Hurd, said:
"I have been clear that everyone who enters custody should be treated with dignity and have their personal needs met.
"Great progress has been made by the police, ICVA and the College of Policing on this issue, and today we are announcing how we will ensure these standards are met across the board."