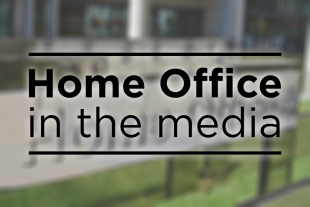 Today's Home Office stories cover the latest crime statistics, right to rent and student visas.
Crime statistics
There is widespread coverage of yesterday's crime statistics, which show that knife crime has risen to record levels in England and Wales.
Coverage includes:
The Telegraph reports that four in ten of these killings involved a knife or sharp instrument but the number of offenders prosecuted for knife possession has fallen.
The number of crimes recorded by police in England and Wales rose by 7 per cent overall last year, the Times reports.
The Times carries an interview with criminologist David Wilson from Birmingham City University who warned that the public could question the point of the police because of their decreasing ability to solve crime. The Police Federation's Che Donald said in response to Mr Wilson that there were "fewer officers than ever" dealing with "more cases", which contributed to the falling charge rate.
The Sun notes that the fall in charge rate meant that there was no charge in "90% of crime", which the Guardian reports is the lowest since recording of the figures began in 2002-2003.
Yvette Cooper, chair of the Home Affairs Select Committee, is quoted in the papers saying that the police are "completely overstretched". She added that the Government response to violent crime is "still far too weak".
The Independent, which carries the story on its frontpage, notes that the Government has named the drugs market and social media as drivers of violence and were tackling it with a public health approach and programmes through the Serious Violence Strategy. The media outlet also carries a separate story which highlights that only one in 60 reported rapes were prosecuted in 2018.
Minister of State for Policing and the Fire Service, Nick Hurd, said:
"Today's statistics show that your chance of being a victim of crime remains low, and the Metropolitan Police's more recent figures suggest that action to tackle violent crime is having an impact.
"Yet too many people are still falling victim to serious violence, which is why we will continue our urgent and unprecedented action to reverse this terrible trend.
"We have given police forces additional powers and have this year put more than £1billion extra into policing, including council tax and £100million specifically for those areas worst affected by violent crime.
"But law enforcement alone is not the answer which is why our Serious Violence Strategy puts a greater focus on prevention, including by consulting on a proposed new duty to underpin a public health approach to serious violence and investing over £220million in projects to steer young people away from crime."
Right to Rent
The Independent reports that the Home Office has spent £78,000 defending the Right to Rent scheme.
The money has been spent appealing against a High Court ruling that the policy violates human rights laws, the media outlet reports.
The judgment, handed down in March, found that the scheme, which requires private landlords to check the immigration status of potential tenants, was causing landlords to discriminate on the grounds of nationality and ethnicity.
A Home Office spokesperson said:
"The Right to Rent Scheme plays an important role in ensuring only those with a legal right to be in the UK are able to access benefits and services.
"We are disappointed by the High Court judgment and are appealing on every ground. We only defend cases where we believe that it is in the public interest to do so."
Student visas
The Times reports that overseas students would be able to work for two years after graduation under a proposed amendment to the immigration bill.
According to the paper, the amendment will be tabled today by Jo Johnson, the former universities minister, and Paul Blomfield, a Labour MP and co-chairman of the all-party parliamentary group on international students.
A Home Office spokesperson said:
"There are no limits on the number of international students who can come to study at our world class institutions and this is evidenced by the fact that university student visa applications are at the highest level on record.
"We have outlined plans to make it easier for students to move into skilled work in the UK after their studies and to extend the post-study leave period for tens of thousands of students.
"These will make sure we continue to attract and retain leading talent from across the world."