Today's Home Office in the media stories include an announcement around police pursuits and a report into policing by Her Majesty's Inspectorate of Constabulary and the Fire and Rescue Service (HMICFRS).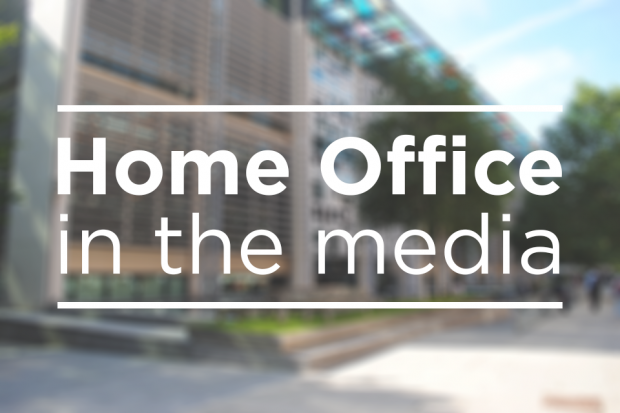 Police pursuits
There is widespread coverage of a Home Office move to give police greater protection in road pursuits, with BBC Breakfast reporting on the announcement this morning.
The Sun, Daily Star, Times, Daily Mail and Telegraph report that police officers will be given greater protection against prosecution following the pursuit of criminals.
The Telegraph reports that the Crown Prosecution Service will be required to recognise the skills and training of police drivers, which enable them to carry out manoeuvres safely at high speed.
Coverage references moped crime and reports that the proposals target crime committed by moped gangs.
Home Secretary Sajid Javid said:
It's vital police officers feel confident and protected when pursing suspects on the roads or responding to an emergency.

It's also crucial that we send a clear message that criminals – whether in cars or on mopeds - cannot escape arrest simply by driving recklessly.

These proposed changes will strike the right balance – giving trained officers the confidence they need to fight crime effectively and ensure our roads are safe.
HMICFRS report into policing
There is widespread coverage of the HMICFRS report into policing, which looks at the performance of 14 police forces.
The Today programme, Metro, Daily Mail and Sun all lead on burglaries, car crimes and assaults being investigated by under-qualified and inexperienced officers due to a shortage of detectives.
It is reported that up to a quarter of high frequency crimes are not being effectively investigated and evidence is routinely overlooked. HM Inspector of Constabulary, Matt Parr, is quoted as saying: "There is too big a gap between what police can do, and what the public expect."
A Home Office spokesperson said:
We welcome the findings of HMICFRS, which show these forces are generally performing well.

We recognise new demands are putting pressure on the police and we are committed to ensuring they have the resource they need. This is why we have provided more than a £1billion increase in police funding compared to last year, including council tax and funding to tackle serious violence.

There are clear areas for improvement for some forces and we expect them to consider these findings carefully and to identify and implement improvements swiftly.

We are pleased to see detective capacity has increased by 5% this year, but are clear that forces must continue make progress on reducing the shortfall to improve their investigative capabilities.
Immigration enforcement stops
The Guardian reports that the Home Office is facing calls to prove that immigration officials are not racially biased after figures showed that thousands of British citizens are being stopped in immigration checks – more than any foreign nationality.
According to data obtained by the Bristol Cable and the Bureau of Investigative Journalism, immigration enforcement officers stopped 5,938 British citizens in the UK's largest cities between January 2017 and October 2018 – more than the combined number of people from Romania, Pakistan and India.
A Home Office spokesperson said:
Enforcement officers record details of all those they encounter while carrying out their duties regardless of whether they are of interest for immigration reasons.

As Home Office enforcement officers operate in the UK, it is not surprising that a significant proportion of those they encounter are UK nationals.