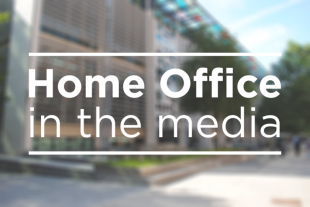 Today's leading stories include coverage of two reports on the EU Settlement Scheme.
EU Settlement Scheme
The Times and The Guardian run articles revealing that more than 600,000 EU citizens have now applied to the EU Settlement Scheme. The Scheme is a free service, which gives EU citizens and their families the immigration status they need to stay, once the UK leaves the EU.
It comes as two reports were published on the Scheme. Firstly, an independent report by David Bolt, the Chief Inspector of Borders and Immigration, on the private testing phases of the Scheme, which ran from August 2018 until January 2018.
Coverage also quotes a Home Office report on the public testing phase, which began in January, with the articles noting that 230,000 applications were received during the three trial periods with no applicants rejected during this time. The Scheme has now been fully live since 30 March 2019.
Immigration Minister Caroline Nokes said:
EU citizens are our friends, family and neighbours and we want them to stay.

The testing phase provided us with valuable insight to ensure that it as easy as possible for EU citizens to get the status they need through the EU Settlement Scheme.

It is performing well and I am pleased that more than 600,000 people have already applied.