Today's Home Office stories include a funding boost for police to tackle knife crime, and post-Brexit immigration proposals.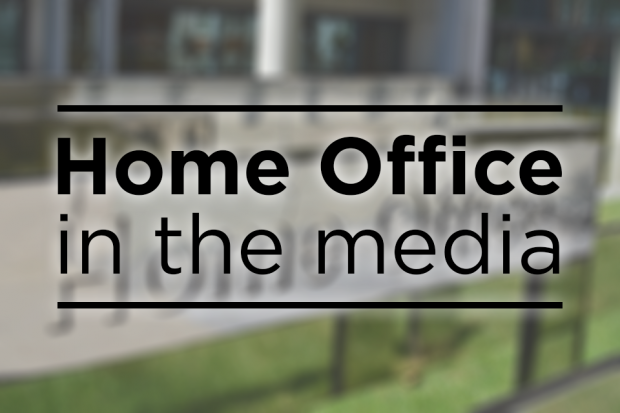 Funding for Met to combat knife crime
The Evening Standard reports that the Met was today given a multi-million-pound boost to help fight knife crime.
The paper says that Home Secretary Sajid Javid said an extra £3.84 million was going to Scotland Yard from the Government's £100 million Serious Violence Fund so it can put more officers on the streets in the worst affected areas.
This paper reports that this follows a £17 million injection before Easter and means London has received a third of the money allocated nationwide from the fund so far.
The paper says that Mr Javid praised its "tireless efforts" to stop young lives being lost.
The funding boost was reported across other regional outlets, including in Birmingham, Leeds and Northumbria.
Home Secretary Sajid Javid said:
Knife crime continues to claim the lives of young people in London - devastating families and shattering communities in the process.

While I am encouraged by Met Police figures suggesting a fall in the number of murders in the capital, as long as people are being killed on our streets I will continue to do all I can to bring the violence to an end.

Strong law enforcement is vital in preventing these senseless crimes and as Home Secretary, I have been working closely with the Metropolitan police to ensure they have the powers and resources they need.

London accounts for around a third of all violent crime in the country and that is why I have allocated the Met more than £20 million in dedicated serious violence funding.

This boost is enabling the force to immediately bolster its operations, including more officers on duty in the worst affected areas more often.

But the tireless efforts of the police can only ever suppress the problem, they cannot solve it.

Early intervention is key and I am committed to working alongside partners in the community, public and private sectors to steer young people away from violence.
Business alarmed by post-Brexit immigration rules
The Financial Times reports a warning from UK businesses that proposals for post-Brexit immigration rules would prevent migrants from bringing family members to the UK and therefore risks making the UK less attractive to overseas workers.
The paper cites a report into dependent visa rules by law-firm Fragomen which warned that excluding dependants from the 12-month visa for low skilled workers and the youth mobility visa for 18-30 year olds, would "significantly reduce the UK's attractiveness for international workers".
It claims that dependants of highly-skilled migrants accounted for almost 46,000 immigrants in the UK in 2018, while family members accompanying international students made up almost 13,000.
The paper says that the Home Office has not confirmed details of the new rules, which would bring EU nationals under the same rules as migrants from outside the bloc.
A Home Office spokesperson said:
The new immigration system, operating from 2021, is designed to attract talent and skilled workers from across the world so that our economy continues to prosper.

As a transitional measure, our Temporary Short-Term Workers route will allow employers to bring in migrant labour at all skill levels for a maximum of 12 months.

Our proposals for a youth mobility scheme with the EU reflect arrangements already in place with a number of other countries, such as Canada, Australia and New Zealand, and would allow EU citizens to travel to the UK for short periods of work or study.

"Other visa routes will allow skilled workers to bring dependants and we have launched a 12-month period of extensive engagement with a range of stakeholders on the details of the White Paper.