Today's Home Office in the media stories include a Home Secretary announcement on the Places of Worship security fund and a call to ban the watching of pornography on public transport.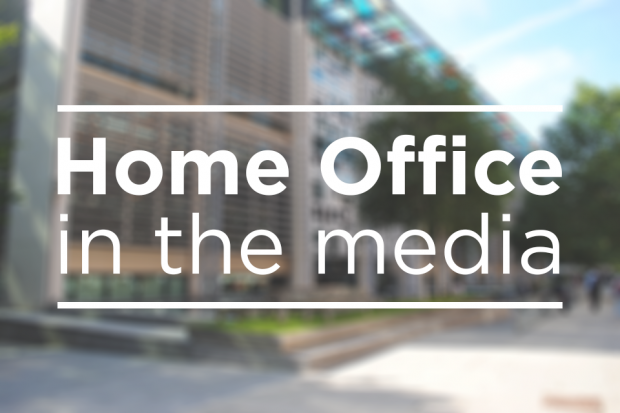 Places of Worship Fund
The Telegraph reports on the announcement of increased funding for security at places of worship by the Home Secretary in the House of Commons last night.
The Home Secretary told the House that he has increased the places of worship protective security fund to £1.6million for 2019/20, double the amount that was awarded last year.
He added that a new £5 million fund would be made available to provide security training for places of worship across England and Wales.
The Telegraph added that the Home Secretary used his powers to ban hate preachers from the UK eight times.
The paper goes on to report that the Home Secretary would not hesitate to use his powers to stop hate preachers stirring up tension in the UK as he announced security measures to protect places of worship in the wake of the Christchurch and Sri Lanka attacks.
It adds that preachers from both the far right and Islamist speakers had been among those banned.
The paper carried a section of the Home Secretary's statement in which he explained the power to exclude foreign nationals "if their presence would not be conducive to the public good".
The full statement can be viewed here.
Call to ban watching porn on public transport
The Mail and Telegraph report the findings of an MPs' report, which says that the viewing of porn on public transport should be banned.
The Women and Equalities Committee found the act of watching porn on mobile devices in public had "developed as a new form of sexual harassment". The Mail reported that bus conductors and police would be given new powers to tackle the problem.
The Mail adds that the issue is among a number of recommendations made by the Committee including a national database of harassment incidents that records offences such as upskirting.
The proposals were supported by the Fawcett Society.
A Government spokesperson said:
It is illegal to watch sexually offensive material on our railways, and nobody should be made to feel uncomfortable or unsafe on public transport.

This is why we have asked the Rail Delivery Group to ensure WiFi provided on trains meets the standards we expect, and have requested that this initiative is progressed as quickly as possible.