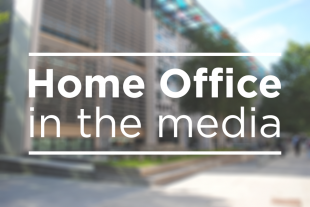 Today's leading stories include coverage of an APPG report on knife crime and the cost of citizenship applications.
Knife crime and youth club funding
There is widespread coverage of analysis by the All-Party Parliamentary Group (APPG) on Knife Crime, which shows that rising knife crime could be linked to cuts to youth services in England.
The Guardian, Daily Mail, Independent, Express, Telegraph, Metro, Times and Sun all report on responses to Freedom of Information requests, which show that the average council reduced spending on youth services by 40% between 2014/15 and 2017/18. It is reported that reduced spending correlated with some of the areas that faced the highest increases in knife crime over the past five years.
A Government spokesperson said:
Knife crime destroys lives and tears families apart and we are determined to tackle the root causes to end this cycle of violence.

There are a range of factors driving increases in this complex crime, including changes to the drugs market. Our Serious Violence Strategy places a greater emphasis on early intervention to steer young people away from violent crime by offering positive choices, alongside equipping police with the powers and resource they need to keep communities safe from this threat.

We are putting more than £200 million into community projects, including Redthread and St Giles Trust, and are consulting on a vital public health duty which will see public bodies work together more effectively to prevent serious violence.
Charges for stateless children citizenship applications
The Guardian reports that nearly 900 children classified as stateless have had to pay fees last year as part of their applications for British citizenship.
According to the new figures, obtained through a Freedom of Information request by Citizens UK, the Home Office received almost 40,000 applications for citizenship for children.
A Home Office spokesperson said:
To reduce the burden on UK taxpayers, fee levels take into account the wider costs involved in running our border, immigration and citizenship system, so that those who directly benefit from it contribute to its funding. The Home Secretary has committed to keeping fees under review.

However, we recognise that we have a duty to support the vulnerable. That is why fees do not apply to stateless individuals who have spent a significant amount of their life in the UK – including vulnerable children – when they apply for Leave to Remain.