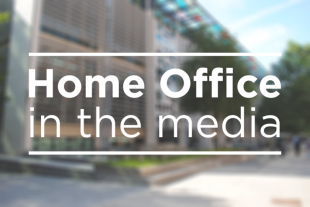 Today's leading story concerns the freezing of assets of a relative of President Bashir al-Assad.
Assad's niece's assets frozen
The Times, Evening Standard and Mail report that Aniseh Chawkat, the niece of Syrian president Bashar al-Assad, had her London bank account frozen after it was used for money laundering.
The Times reports that Ms Chawkat agreed yesterday to forfeit almost £25,000 found in her Barclay's account.
The National Crime Agency found that £151,387 had been paid into her account via 56 cash deposits over two years, according to The Times.
Minister for National Security and Economic Crime Ben Wallace said:
I am determined to take action against anyone found to have been complicit in money laundering and our Serious and Organised Crime Strategy turns the full force of the state against those behind such crimes.

Today's ruling shows that our work alongside the NCA to combat dirty money – which is being spearheaded by the new National Economic Crime Centre – is having an impact.

While the amount forfeited is relatively small, this case sends a big message out to those who would seek to conceal illicit funds in the UK.