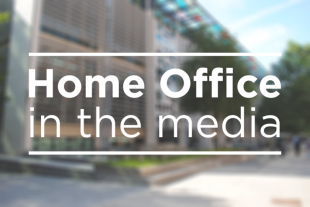 Today's leading stories include the Migration Advisory Committee's report on the shortage occupation list and the Home Affairs Committee's comments on the EU Settlement Scheme.
Migration Advisory Committee report
The Evening Standard, Financial Times, Guardian, Times, Express, Sun, Mail and Telegraph cover the report from the Migration Advisory Committee (MAC) that recommends that a number of professions be added to the shortage occupation list.
The reporting notes that the MAC has said that professions such architects, web designers and vets should all be added to the list, which makes it easier for applicants in certain professions to gain visas.
A Home Office spokesperson said:
We are grateful to the Migration Advisory Committee for a very comprehensive report. We will consider it carefully and respond in due course.
EU Settlement Scheme
The Telegraph, Financial Times, City AM and BBC News Online report that the Home Affairs Committee has warned that EU nationals risk being caught up in similar problems as faced by the Windrush generation unless the Home Office makes urgent changes to its settlement scheme.
The committee argues that the three million EU citizens living in Britain at the time of Brexit should get a new legal right to stay in the UK without going through the uncertainty of applying to the scheme.
A Home Office spokesperson said:
We disagree with the Home Affairs Select Committee's assessment of the Scheme, which is performing well with more than 600,000 applications received by the end of April and hundreds of thousands of people already being granted status.

The Scheme protects the rights of EU citizens in UK law and gives them a secure digital status which, unlike a physical document, cannot be lost, stolen or tampered with. A declaratory system – that means EU citizens are not required to obtain status and evidence of this – risks causing confusion especially for the most vulnerable, and could in years to come find people struggling to prove their status.

We have taken great care to learn from the experience of the Windrush generation. It's part of the reason why there are 200 assisted digital locations across the UK to help EU citizens apply, dedicated staff in our Settlement Resolution Centre and £9m available for 57 organisations across the UK to support an estimated 200,000 vulnerable people to apply.