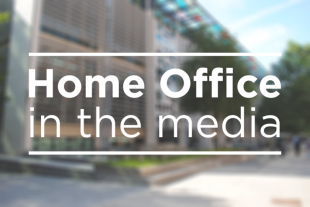 Today's leading stories include a foiled terror plot, discussions around migrants crossing the Channel and concerns of abuse of Section 45 of the Modern Slavery Act.
Terror plot
The front page of the Daily Telegraph reports that Iran-linked terrorists were caught stockpiling explosives in north-west London in a plot foiled in 2015. This story is also covered by the Sun, Daily Mail and Express on their websites.
According to the paper, radicals linked to Hizballah, the Lebanese militant group, stashed thousands of disposable ice packs containing ammonium nitrate - a common ingredient in homemade bombs. The plot was uncovered by MI5 and the Metropolitan Police in the autumn of 2015.
Security Minister Ben Wallace said:
The Security Service and police work tirelessly to keep the public safe from a host of national security threats. Necessarily, their efforts and success will often go unseen.
Migrant crossings
The Sun reports that drones are to fly across the French coast at night in a bid to crack down on migrants attempting to cross the Channel illegally, according to plans laid out by the Home Secretary.
According to the paper, the plans were drawn up following a meeting last week between Sajid Javid and his French counterpart, Christophe Castaner.
More details of the discussions can be found on gov.uk.
Home Secretary Sajid Javid said:
I would like to thank Minister Castaner for a productive conversation.

The suggestion from Minister Castaner to mobilise additional coastal patrols and explore aerial surveillance options is exactly the type of action which will build on the progress we have already made.

Both myself and Minister Castaner are in agreement that our countries' continued close working is crucial in finding solutions to the issue of men, women and children risking their lives in dangerous Channel crossings.
Drug gangs exploiting Modern Slavery Act
The Daily Mail follows up on Sunday Times' reporting that drug gangs are teaching members to cite Section 45 of the Modern Slavery Act which effectively protects them from prosecution.
Anti-slavery Commissioner Sara Thornton said she has had heard concerns about the operation of Section 45 and said she would be "seeking to better understanding" in order to "encourage good practise" over the next year.
A Home Office spokesperson said:
Modern slavery and trafficking are barbaric crimes and we remain committed to stamping it out and supporting genuine victims.

The Government commissioned an Independent Review of the Modern Slavery Act 2015 to identify whether specific areas of existing legislation need to be strengthened. The Government is currently carefully considering the findings from the final report, which has recommended more training and awareness on the Section 45 defence.