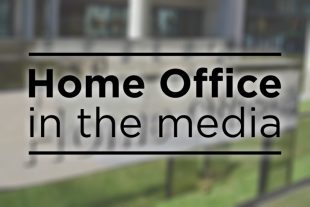 Today's Home Office media stories include a court being told that MI5 kept material illegally, public appointments, child informants, and an extradition request for Julian Assange.
MI5 data breach
The Guardian, Telegraph, Sun and Star report on revelations heard in court on the bulk interception of data acquired through surveillance and hacking. Coverage notes that the Investigatory Powers Commissioner felt the way that MI5 held and handled people's data was "undoubtedly unlawful" and was in effect in special measures. MI5 is also said to have misled senior judges by applying for warrants on the basis that data protection obligations were being met, when they were not. Ben Jaffey QC for Liberty is quoted as saying there were "ungoverned spaces" in MI5's operations where it did not know what it held.
Read the Written Ministerial Statement for more information.
Public appointments
The Guardian reports that the Crime Minister vetoed the appointment of an expert to a public body after vetting found she had criticised the Home Office and called for drug policy reform. According to the article, documents released under a subject access request also reveal candidates for public bodies now have their social media profiles scrutinised by ministers, including posts regarding PM/government, Windrush, Brexit and anything "diversity-related".
The article carries comments by Niamh Eastwood, director of Release, saying that during her interview she was a critic of the Government's drug policy and the Home Office secretariat later flagged a number of critical tweets, including one referring to a letter regarding drug consumption rooms sent by the Crime Minister.
A Home Office spokesperson said:
Ministers are responsible for appointing members to public bodies in line with the Governance Code on Public Appointments. They are provided with a choice of appointable candidates for each competition and will make the appointment objectively and on the basis of expertise.
Child informants
There is further coverage today in the Independent, Guardian, Sun, Metro and Telegraph noting that the High Court heard that children recruited to spy on drug dealers, gangs, terrorists and paedophiles have fewer safeguards when handled by investigators than those arrested for minor offences such as shoplifting.
Coverage highlights that at a judicial review hearing, campaigners challenging the use of children as covert human intelligence sources argue the lack of safeguards violates children's human rights and puts them at risk of severe harm. The Guardian notes that whilst introducing the case against the Home Office, Just for Kids Law's QC says safeguards for children recruited as covert human intelligence sources (CHIS) is inadequate.
The Telegraph carries an interview with the Security Minister saying that according to him, police and intelligence agencies should make greater use of child spies to investigate terrorists, gang violence, drug dealing and sexual exploitation. According to the article, the Minister also said there is scope to recruit juvenile undercover agents because growing numbers of children are now involved in serious crime, both as perpetrators and victims.
Security Minister Ben Wallace said:
Juvenile covert human intelligence sources are used very rarely and only ever when it is necessary and proportionate and when there is no other less intrusive way to get the information needed to convict criminals or terrorist suspects.  This could include helping to prevent and prosecute gang violence, drug dealing and the 'county lines' phenomenon all of which have a devastating impact on young people and local communities.

Their use is governed by a strict legal framework and is overseen by the Investigatory Powers Commissioner. Throughout any deployment and beyond, the welfare of the young person is the paramount consideration.

In March, the Commissioner has been clear that since January 2015 there have been 17 CHIS authorisations relating to juveniles have been approved – one of these individuals was 15 and the others were 16 or 17.
Julian Assange
The Guardian and City AM report that the US Department of Justice said yesterday it had submitted a formal extradition request for the Wikileaks founder Julian Assange. The articles note that the US will detail all the charges against Mr Assange when it seeks his extradition in a London court on Friday.
A Home Office spokesperson said:
Mr Assange was arrested in relation to a provisional extradition request from the United States of America. He is accused of offences including computer misuse and the unauthorized disclosure of national defence information.

We have now received the full extradition request.