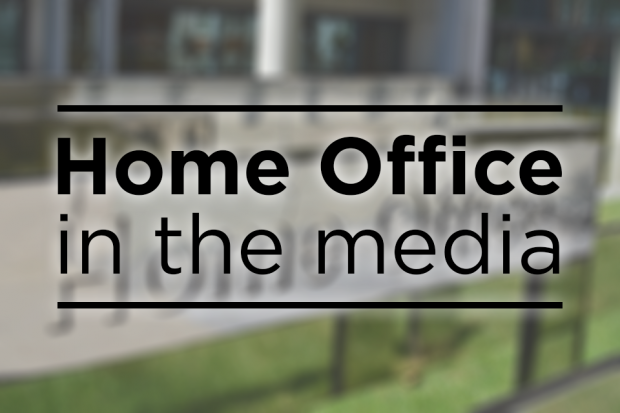 This fact sheet was updated on 23 April 2020.
We are recruiting 20,000 new police officers over the next three years.
Up to 6,000 additional officers have been allocated in the first wave and will be shared among the 43 territorial police forces.
This year the Government announced the biggest increase in funding for the police system since 2010.
The amount of funding available to the policing system for 2020/21 will increase by more than £1.1 billion, totalling £15.2 billion, should Police and Crime Commissioners (PCCs) take full advantage of flexibility to set the police precept.
We have already made it easier for the police to use enhanced stop and search powers where they expect violence to take place.
Police will be given more power to stop and search those who have been convicted of knife crime.
We are determined to tackle county lines, which is why we have invested in the National County Lines Co-ordination Centre whose work has safeguarded more than 3,000 vulnerable people and led to more than 2,500 arrests since it opened over a year ago.
We have are investing £25 million to tackle county lines, which includes:

Expanding the National County Lines Co-ordination Centre
Increased disruption on the rail networks by British Transport Police
Investment in new technology including Automatic Number Plate Recognition
Increased support for victims

The Offensive Weapons Act introduces new laws which will give police extra powers to seize dangerous weapons and ensure knives are less likely to make their way onto the streets in the first place.
The Act will make it illegal to possess dangerous weapons in private, including knuckledusters and zombie knives, and will stop knives being sent to residential addresses after they are bought online, unless the seller has arrangements in place with the delivery company to ensure that the product would not be delivered into the hands of a person under 18.
The Act also includes Knife Crime Prevention Orders, which will provide an additional tool for police to steer adults and young people away from serious violence.
We are changing the law to make it a legal requirement for public bodies such as police, councils and health authorities work together to share data, intelligence and knowledge to understand and address the root causes of serious violence.
In addition to tough law enforcement, we believe it is vital to divert young people away from serious violence, which is why we are investing into early intervention projects.
This includes the £200 million Youth Endowment Fund, which is administered by a partnership led by Impetus, alongside the Early Intervention Foundation and Social Investment Business, to help prevent young people being drawn into a life of crime and violence.
The Youth Endowment Fund recently announced its first award of £17.1 million over two years to 23 projects across England and Wales to help prevent youth offending.
At budget, the Government announced an additional £5 million for the Youth Endowment Fund to support the creation of a Centre of Expertise for tackling youth violence. This will create a single evidence hub to divert young people away from criminal activity and improve the effectiveness of our wider investments in crime reduction, including the work of the Youth Endowment Fund and Violence Reduction Units.
Last September, the Chancellor reiterated a commitment to young people, confirming £500 million investment through the new Youth Investment Fund over five years.
This vital investment, the cornerstone of the Government's offer for young people, will help build 60 new youth centres across the country, refurbish around 360 existing youth facilities, and provide more than 100 mobile facilities for harder to reach areas.
The fund will also support the provision and coordination of high-quality services for young people, and an investment in the youth workforce.
The Home Secretary also announced that £41.5 million of funding will go to police forces in 18 areas in the UK worst affected by serious violence to surge their operational response.
This money will go towards measures such as increased patrols and forms part of the Government's investment in tackling serious violence.
In December, the Home Secretary announced that eighteen Police and Crime Commissioners will receive an additional £35 million to continue funding Violence Reduction Units, which bring together police, local government, health, community leaders and other key partners to tackle violent crime. This builds on the £35 million provided in 19/20.
The Government is changing the law to make sure that serious violent and sexual criminals face more time behind bars.
Automatic release for violent and sexual offenders will be moved to the two-third point of their sentence rather than halfway - providing greater assurance to victims and the public that sentences will reflect the severity of their crime.
Police Surge Funding 20/21 (provisional allocations)
| | |
| --- | --- |
| Force | Allocation |
| Metropolitan Police | £13,647,455 |
| West Midlands | £4,981,485 |
| Greater Manchester | £3,143,375 |
| Merseyside | £2,755,100 |
| West Yorkshire | £2,635,315 |
| South Yorkshire | £1,689,410 |
| Northumbria | £1,524,185 |
| Thames Valley | £1,263,960 |
| Lancashire | £1,189,610 |
| Essex | £1,152,435 |
| Avon and Somerset | £1,123,520 |
| Kent | £1,082,215 |
| Nottinghamshire | £1,003,730 |
| Leicestershire | £916,990 |
| Bedfordshire | £908,730 |
| Sussex | £871,555 |
| Hampshire | £830,250 |
| South Wales | £780,680 |
| | £41,500,000 |