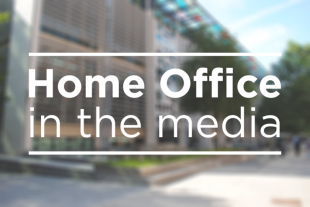 Today's leading stories include calls for venues to be required to prepare dedicated security plans and for the UK to commit to offering protection to further refugees.
Martyn's Law
The Guardian, The Sun, Daily Star, Daily Mirror, The Independent and Today programme report that a group representing terrorism survivors will call on the Home Office to require all venues and public spaces – from arenas to pubs – to prepare a dedicated security plan in case of an attack.
Called Martyn's law, the proposal is named after Martyn Hett, who was killed in the Manchester Arena attack two years ago, and is supported by his mother Figen Murray.
Security Minister Ben Wallace said:
Going to concerts, exhibitions, shopping centres, watching sport and other events, are part of the fabric of life. Things that should be enjoyed without fear.

Just as we share enjoyment of these communal places and spaces so we need to share concern and responsibility for keeping them as safe as possible. That means owners, operators and public authorities stepping up and making full use of the wide range of information and advice available to support them.

The Government is also considering whether and how further legislation could support, or indeed compel, effective and proportionate protective security. We would very much welcome input from Figen Murray and others campaigning for Martyn's law in this work and I look forward to discussing it with her soon.
Child refugees
Following on from the Home Secretary's announcement on Monday that a further 5,000 refugees would be offered sanctuary from 2020, the Guardian reports that there have been fresh calls for the UK to bring 10,000 child refugees to safety.
These calls come amid events celebrating the 80th anniversary of the Kindertransport trains that saved many children from the Nazis. The charity Safe Passage said it had secured pledges from local authorities to support 1,170 child refugees.
A Home Office spokesperson said:
Since 2016, Britain has resettled more refugees from outside Europe than any other EU state and we will continue to do all we can to help the world's most vulnerable.

Our new global resettlement scheme will help thousands more people fleeing conflict and persecution, including children, to build a new life in the UK.

We remain fully committed to relocating 480 children under section 67 and are determined to deliver on that.