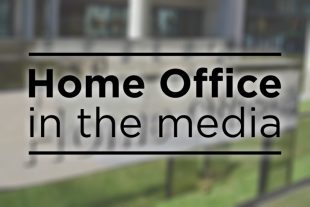 Today's leading stories include continued coverage of the NSPCC conference on online child safety and the arrest of several people involved in a people smuggling operation.
Online child safety
There is further coverage of the NSPCC conference on protecting children online in the Times and Metro this morning.
The Times reports that Education Secretary Damian Hinds will speak at the conference today and also references the Home Secretary's comments made at the conference yesterday.
A full transcript of the Home Secretary's speech is available on gov.uk
Migrant smugglers
The Sun, Telegraph and Metro report that a gang of Romanian lorry drivers smuggling illegal immigrants to Britain have been caught by police.
Three arrests have been made in Britain, 10 in Romania and three in France. It is reported that the gang made at least £3 million trafficking migrants and helped 300 migrants enter the country in the back of lorries.
The Sun reports that migrants paid up to £13,000 each to be trafficked into Britain via the Netherlands.
For further information on this case, interested parties should approach the NCA.
For more information on the action being taken by the Home Office to tackle illegal migration and people smuggling, please see the factsheet on our blog.