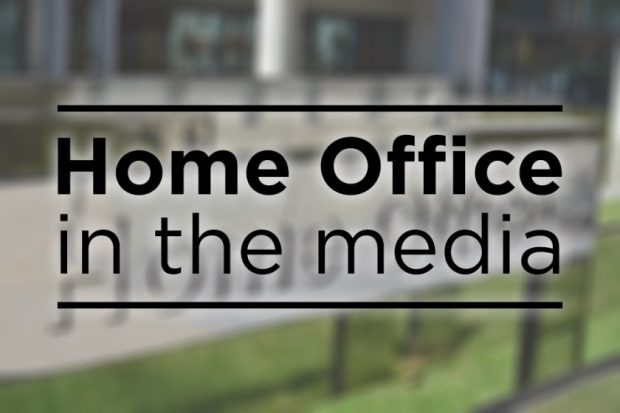 Today's leading stories include coverage of the latest immigration statistics, a number of migrant incidents in the Channel yesterday and statistics on asylum applications.
Immigration statistics
There is widespread coverage today of the latest immigration statistics, which were released yesterday (Thursday 22 August).
All reports note that net immigration to the UK is down, partly as a result of immigration from the EU reaching its lowest level since 2013, according to estimates from the Office for National Statistics.
The Immigration Minister, Seema Kennedy, said:
These statistics show that highly skilled workers, such as scientists, doctors and nurses, continue to be attracted to the UK, boosting our economy and demonstrating that this country is a great place to study, work and do business.

Leaving the EU means we will have full control over who can come to the UK, which means ending free movement as it currently stands and establishing a points-based immigration system which attracts the brightest and the best from around the world.
Channel migrants
There is coverage on broadcast this morning and in the Express, Mail and Telegraph of the Channel migrant incidents that occurred yesterday.
According to the Express, a toddler was among the 65 migrants saved by coastguards.
The Today programme reported that the Home Secretary will meet with her French counterpart.
A Home Office spokesperson said:
Crossing the Channel in a small boat is a huge risk. The criminal gangs who perpetuate this are ruthless and do not care about loss of life.

We have three Border Force cutters in the Channel and a joint action plan with France in place, including a coordination centre in Calais which assists with preventing illegal attempts to cross the border. Since January we have returned more than 65 people who arrived illegally in small boats to Europe.

We continue to monitor the ongoing situation and are working closely at all levels with French authorities on the issue. The Home Secretary will raise this issue with her French counterpart in the coming days.
Asylum applications
The Mail and Sun report that the number of people granted asylum or other sanctuary from persecution in Britain has risen to its highest level in 16 years.
According to the reports, the level is the highest in a 12-month period since an increase in asylum seeking in 2003. In the Sun, Lisa Doyle, from the Refugee Council, said there had been a welcome increase in the number of asylum applications granted without the need to go to appeal.
A Home Office spokesperson said:
Over 12 months we gave protection to over 18,500 people, the highest number since 2003.

We aim to resolve all asylum claims as quickly as possible, however, some cases are complex and it's our duty to investigate them thoroughly.

We continue to review and improve processes to increase efficiency and have recently increased the number of staff to ensure that asylum claims are properly considered in a timely and sensitive way.