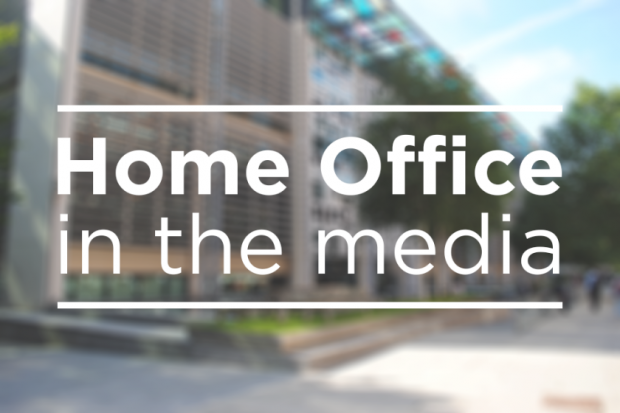 Today's Home Office media stories include coverage on the EU Settlement Scheme advert, far-right extremism and police recruitment.
EU Settlement Scheme advert banned
BBC Breakfast, the Guardian, Independent, Financial Times and Times report that a Home Office campaign informing EU nationals how to confirm their UK status after Brexit has been banned by the advertising watchdog for being "misleading".
The Guardian reports that the advert for the EU settlement scheme, which aired on 13 April, claimed potential applicants only needed a passport or ID card to complete the online form. However, a member of the public complained this was misleading as in some cases applicants need to provide proof of address covering the previous five years, the paper says.
A Home Office spokesperson said:
We completely disagree with ASA's decision. The campaign was factual and complied with all necessary clearance processes for radio advertising.

The campaign has had a positive impact and encouraged more than one million successful applications so far.

The Scheme is free, straightforward and EU citizens and their family members have plenty of time to apply. All they need to apply is their passport or ID card and to complete an online form.
Far-right extremism
The Guardian and Independent report on a Tony Blair Institute report on far-right extremism.
The Guardian reports that the think tank has called for a new law allowing for hate groups to be designated and punished before they turn to violence, including powers to ban marches and media appearances. They say this is necessary to tackle far right extremists.
The law would target groups like white supremacists group Generation Identity and would sit alongside proscription powers that ban groups concerned with terrorism, the Guardian reports.
Baroness Williams, Minister for Countering Extremism, said:
Far right extremism has absolutely no place in our society.

Our Counter-Terrorism and Counter-Extremism strategies tackle the scourge of both violent and non-violent far right extremism head on.

We have also established the independent Commission for Countering Extremism, which provides advice in what is needed to tackle extremism and will be refreshing our Counter Extremism Strategy to ensure we keep pace with the evolving threat.
Police recruitment pledge
The Guardian reports that Boris Johnson has been accused of misleading the public when he promised to recruit 20,000 police officers after the Home Secretary said in correspondence that she was in discussions with police over the allocation between "territorial, regional and national policing functions".
In a letter to the Mayor of London, the Home Secretary said: "I am regularly in discussions with policing leaders, including in London the commissioner of the Metropolitan police service, Cressida Dick, on the allocation of these officers between territorial, regional and national policing functions."
A statement from the Home Office states that we have always been clear that we will work with police to decide how best to allocate the 20,000 in order to respond to emerging threats.
A Home Office spokesperson said:
The Government is moving at pace to deliver its commitment to recruit 20,000 new police officers within the next three years.

We have been clear we will work with the police to consider how best to allocate the 20,000 to ensure we protect the public, serve communities and tackle current and emerging threats, including serious and organised crime and serious violence.