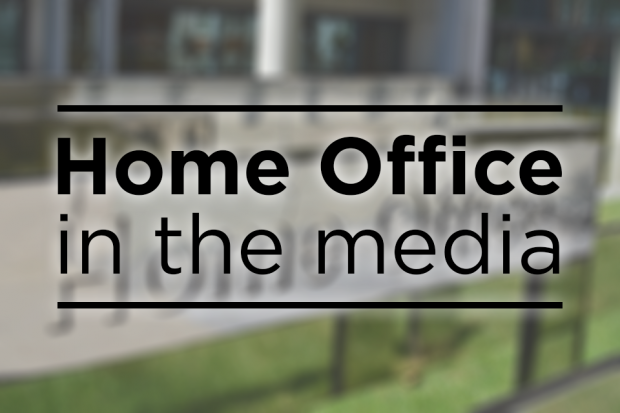 Today's Home Office media stories include county lines gangs, migrant crossings and predictive policing.
County lines gangs
The Guardian reports that the number of children being exploited by county lines gangs has risen.
The paper reports that 8,650 assessments by children's services in England (2017–18) noted young people as being vulnerable, with gangs identified as an issue. Separately analysis found the number of times children were assessed as vulnerable because of having gone missing also soared in the same time period, from 8,850 to 16,070, the paper says.
The Guardian reports that MPs, academics and charities described the findings as shocking, saying the rise of organised criminal groups which use children to traffic drugs from inner-city areas to provincial towns, where they are used to sell drugs, was a key factor in the surge.
A Government spokesperson said:
Any child going missing is of a serious concern and we know that those who go missing either from home, school or from care are at risk of possible exposure to child criminal exploitation.

Our Serious Violence Strategy includes a range of actions to combat county lines, and through this we have provided £3.6m to establish the National County Lines Co-ordination Centre which has resulted in more than 1,600 arrests and has safeguarded more than 2,100 individuals since its launch in September 2018.

We have also launched a new national Tackling Child Exploitation Support programme to help safeguarding partners in local areas develop a strategic response to protecting vulnerable children from threats such as gangs, county lines and trafficking.
Migrant crossings
The Telegraph, Star, Times, Mail and Sun report that more than 120 migrants have been intercepted off the British coast in the past week as officials warn that a wave of camp closures in France is behind a surge in Channel crossings.
The articles note that the Home Office said a total of 41, who identified themselves as Afghan, Turkish, Iranian and Mali nationals, attempted the journey in four separate groups on Sunday.
A Home Office spokesperson said:
Crossing the Channel in a small boat is a huge risk. The criminal gangs who perpetuate this are ruthless and do not care about loss of life.

We are working closely at all levels with the French authorities to tackle this dangerous and illegal activity. In addition, Border Force cutters are patrolling the Channel and we have deployed equipment to detect migrant activity.

Last month the Home Secretary and her French counterpart agreed to intensify joint action to tackle small boat crossings in the Channel. This includes drawing up an enhanced action plan to deploy more resources along the French coast to intercept and stop crossings.
Predictive policing
The FT and Guardian report that security think tank RUSI warned that the use of machine-learning algorithms to fight crime risks unfairly discriminating against protected characteristics including race, sexuality and age.
The think tank says such algorithms, used to mine insights from data collected by police, are currently deployed for various purposes including facial recognition, mobile phone data extraction, social media analysis, predictive crime mapping and individual risk assessment.
According to the articles, researchers at RUSI, commissioned by the government's Centre for Data Ethics and Innovation, focused on predictive crime mapping and individual risk assessment and found algorithms that are trained on police data may replicate – and in some cases amplify – the existing biases inherent in the data set, such as over- or under-policing of certain communities.
A Government spokesperson said:
We established the Centre for Data Ethics and Innovation to explore and lead the global debate on how data-driven technologies can be used for the maximum benefit of society.

It has an independent board and its remit is to provide advice to the government to help make sure new technologies and data are used responsibly.