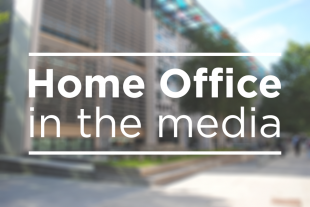 Today's leading stories include preparations for further planned climate change protests and an individual visa application.
Extinction Rebellion
Specialist police teams will be heading to London this weekend to help deal with two weeks of protests planned by Extinction Rebellion, the Guardian, Telegraph, Sun, Mail and Independent report.
Following a media briefing at Scotland Yard, the papers report that Metropolitan Police officers will be put on 12-hour shifts from Monday, while forces across England have already been asked to contribute specialist "protest removal teams" trained and equipped to deal with those using locks and glue to hamper removal efforts.
A Home Office spokesperson said:
We continue to work closely with senior Metropolitan Police officers and National Police Leads to establish what they would like to see introduced that would make a real practical difference.

The right to protest peacefully is a long-standing tradition in this country and a vital foundation of our democracy and we have full faith in the police to ensure that the law and the safety of all concerned is maintained.
Mu-Chun Chiang
Following coverage of the case yesterday, the Guardian, Independent and Mail today report on the case of Mu-Chun Chiang, reporting that the Home Office has now granted her leave to remain.
Previous coverage has reported that the junior doctor had her application for an extension of her leave declined because of a small administrative error.
A Home Office spokesperson said:
Following reconsideration of this case in light of additional evidence supplied by Ms Chiang, we have now contacted her to confirm her leave to remain.

Ms Chiang is not and was not subject to removal proceedings.