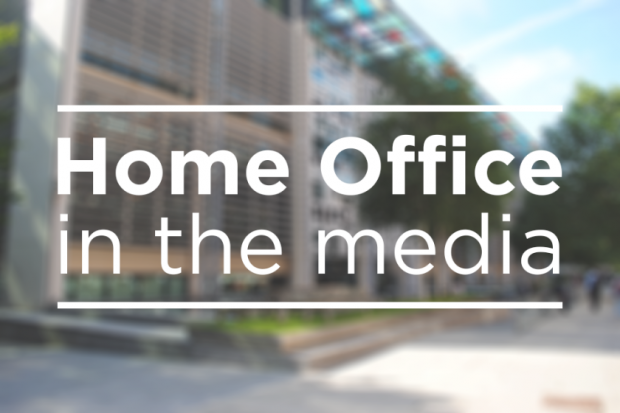 Today, the Commission for Countering Extremism has published its report into 'Challenging Hateful Extremism'.
In 2018, the government established the independent Commission for Countering Extremism, with Sara Khan as the Lead Commissioner. The government tasked the Commission to publish a study into the threat we face from extremism and the current response.
The government's response to the Commission's report can be found below.
Further to this is a fact sheet setting out the efforts taken by the government to tackle extremism since the Counter Extremism Strategy was launched in 2015.
Minister for Countering Extremism Baroness Williams said:
 It sickens me that extremists attempt to spread their toxic views, which go completely against our fundamentals values.

I am immensely proud that communities are coming together to lead the fight in challenging extremists, making it clear that their damaging ideologies and narratives have no place in our society.

Our new Counter-Extremism Strategy, due to be published next year, will reflect the changing nature we face from extremism whilst building on the positive work already delivered.

I thank the Commission for their work. We will consider their findings and recommendations closely and respond in due course.
COUNTER EXTREMISM FACT SHEET
Counter Extremism Strategy 2015
The UK is an open and diverse country where people from all parts of society can be successful.  This is a key part of the UK's values and will not change.
Our 2015 Counter-Extremism Strategy was the first of its kind anywhere in the world, designed to protect us all from the wider harms of extremism, beyond terrorism.
We're vigorously countering extremist ideology – making sure every part of government is taking action to confront extremist narratives that run contrary to our fundamental values. We tackle all forms of extremism, including but not limited to Far Right, Islamist and Far Left.
Since the Strategy was launched the government has:

Improved our understanding of extremism through the work of the Extremism Analysis Unit.
Grown a network of more than 230 civil society groups that are standing up to extremists in their communities. We have awarded funding and support to these groups via our £63m 'Building a Stronger Britain Together' programme.
Created a network of Community Co-ordinators to develop knowledge of extremism at a local level and identify and support individuals and groups challenging extremism in 40 key areas, and launched the Special Interest Group for Countering Extremism (SIGCE), co-chaired by Luton and Leeds councils, to develop tools and guidance to build local authorities' capability to counter extremism.
Provided funding through the Places of Worship protective security scheme to religious groups to improve physical security measures at their places of worship. This was increased to £1.6m in 2018/19 and has been increased again to £3.2m to 2019/20.
Published a Hate Crime Action Plan, which was refreshed in 2018.
Continued to act to prevent extremism from gaining a foothold in our schools, including through strengthening regulations to safeguard children missing from education (introduced in September 2016).
Concluded independent reviews of integration and of Islamist extremism in prisons.
Published the independent Sharia review.
Introduced new powers - via the Digital Economy Act 2017 – that have already enabled Ofcom to take a community radio station permanently off-air for breaching their contents standards. We've also revised the UK's Broadcasting Code to make clear that hate speech and derogatory content is not permitted.
Excluded fourteen individuals from the UK on the grounds of unacceptable extremist behaviour since the Strategy was published.

A comprehensive new strategy will be developed over the coming months and published in 2020 that builds on what has been successfully delivered to date and take forward a refreshed counter extremism approach.
Commission for Countering Extremism
In 2018, we established the Independent Commission for Countering Extremism, with Sara Khan as the Lead Commissioner.
The Commission is crucial to bringing new drive and innovative thinking to all our efforts to tackle extremism. It will chart a new path and has a clear remit to support the government to identify and confront extremist ideology in all its forms, whether Islamist or far and extreme right-wing, or violent and non-violent. It will do this both across society and online.
On 7 October  2019, the Commission published the findings of its report into extremism. The Government will respond in due course
Further information on the Commission can be found here: https://www.gov.uk/government/organisations/commission-for-countering-extremism
Hate Crime
The Hate Crime Action Plan published in 2016, and refreshed in October last year, focuses on five key priorities: to prevent hate crime happening in the first place through education; tackling hate crime in our communities; increasing reporting; improving support for victims; and increasing our understanding of hate crime.
Successes of the hate crime plan have included:

Funding of £4 million to date for protective security measures for places of worship vulnerable to hate crime;
Improving police response by offering call handlers specialist training on how to support hate crime victims and revamping the True Vision reporting website;
More than £1.5m of funding to for groups to challenge prejudice and hatred;
Roundtable on antisemitism and anti-Muslim hatred to discuss responses to these issues;
A roundtable hosted with charities to discuss hate crime on social media and how to tackle it;
£900,000 over three years for over 20 local projects tackling hate crime.

We have asked the Law Commission to conduct a wide-ranging review into hate crime – to explore how to make current legislation more effective.
The government's Online Harms White Paper proposes a duty of care on companies to keep their users safe and tackle illegal activity on their services, including hate crime.
Building a Stronger Britain Together
The Government's flagship counter extremism programme, Building a Stronger Britain Together (BSBT) was launched in 2016 to:

empower those working to challenge extremists and their narratives;
support a network of credible local voices who want to promote positive alternatives, including online; and
train a wide range of civil society groups to help them build and maintain a compelling online presence.

BSBT provides two forms of support to civil society organisations:

Grant funding supports specific projects that are aligned with the Government's counter extremism strategic outcomes, including: fewer people holding attitudes, beliefs and feelings that oppose shared values; an increased sense of belonging and civic participation at the local level; and communities more resilient to extremism.
In-kind communications support helps organisations build their capability to reach larger, more targeted audiences and increase the influence of their work. For example, through the design and delivery of specific communications campaigns, professionally-built websites, or social media training to provide the organisation with the skills they need to sustain the impact of their work.