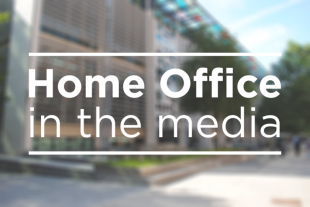 Today's leading stories include latest figures on the EU Settlement Scheme, the police recruitment announcement and research into the use of pre-charge bail by police.
EU Settlement Scheme
There is widespread coverage in print this morning of the latest EU Settlement Scheme statistics, which were released yesterday and comments from the Home Secretary, who stated that 2 million people have now applied to the EUSS.
Home Secretary Priti Patel said
EU citizens have made a huge contribution to this country and will play a key role in cementing Britain's status as an outward-looking, global leader after Brexit.

That is why I am thrilled that we have had two million applications to the EU Settlement Scheme so that EU citizens can secure their immigration status under UK law.
Police recruitment
The Express splashes on its interview with the Home Secretary yesterday as part of the announcement on police recruitment.
The Express reports that the Home Secretary vowed to make our streets safer by putting more police officers back on the street.
Home Secretary Priti Patel said:
The public are clear they want to see more police officers on their streets, whether they live in the city or the countryside.

This is the people's priority and it is exactly what the Government is delivering.

Every single police force in England and Wales will be able to recruit additional officers this year to help keep all of our communities safer.
Bail conditions
There is coverage in the Telegraph, Metro and Guardian of  research by the Law Society of England and Wales, which suggests that crime suspects are being released by police without restrictions - potentially allowing them to offend further.
A Home Office spokesman said:
We fully support the police in their use of pre-charge bail in cases where it is necessary and proportionate, including where bail conditions are needed to protect victims and witnesses.

The National Police Chief's Council guidance, issued to police forces earlier this year, states that in cases involving high-harm crimes, such as domestic abuse and sexual violence, pre-charge bail should be seriously considered and senior detectives consulted if a suspect is released only under investigation.

Cases where individuals are released under investigation must also be regularly reviewed and effectively managed, with both suspects and victims kept updated.